As technology evolves so too do our digital lives, sometimes to the point where we can start to feel bogged down by the plethora of time-saving tools and life-changing apps. When it comes to improving productivity, most of us could use a little help. Take a look at these 3 tech hacks that are guaranteed to improve productivity in your digital life.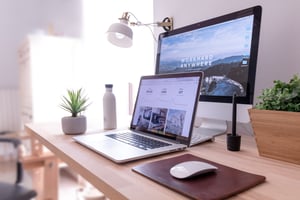 Time tracking technology
You may be surprised to find out just how much time you waste online, but it can be a useful exercise in determining the areas in which you could be more efficient. Time tracking software provide insight into how many hours you spend surfing the net or using various apps. And the best part about this type of software is that it runs in the background while you work, automatically logging your usage.
ManicTime is one of the more robust time tracking programs which not only tracks how much time you spend in each app, but also in each document you open. It's a good way to pinpoint which tasks take up most of your time, something that could help you determine if those tasks are the best use of your time.
Parental lock prevents procrastination
If you often find yourself wasting time scrolling through social media pages, you may need a little help developing discipline and will power, but you don't need to go it alone! Simply enable the parental control settings in your main operating system and block those websites during office hours.
If you're on iOS, go to Settings > General > Restrictions to turn parental controls on and set blocked websites.
macOS users should go to System Preferences > Parental Controls.
Windows users can find them under Windows Settings > Accounts > Family & Other People.
And Android users can download the TrendMicro app, which allows users to easily block access to certain websites.
For an even simpler solution, try enabling the "Do not disturb" mode so you're not constantly interrupted by social media notifications or instant messages when you need to work.
Technology at your fingertips
Finally, make the most of the technology that's right in front of you – it could go a long way towards saving you time and money. Decide which applications meet your technology needs and start using them.
Apps like Evernote or Trello help you collaborate on projects which makes working with people around the world that much simpler, while Google Hangouts, Facebook Messenger and Skype cut out the need for onsite meetings. Storing your data in the Cloud with apps like Google Drive, Dropbox or Microsoft Sharepoint means you can work anywhere at any time and, even if your computer crashes you still have access to your data.
For more financial tips on saving time and money and to find the right option for you, talk to your Mortgage Express broker.
---
Disclaimer:
While all care has been taken in the preparation of this publication, no warranty is given as to the accuracy of the information and no responsibility is taken by Finservice Pty Ltd (Mortgage Express) for any errors or omissions. This publication does not constitute personalised financial advice. It may not be relevant to individual circumstances. Nothing in this publication is, or should be taken as, an offer, invitation, or recommendation to buy, sell, or retain any investment in or make any deposit with any person. You should seek professional advice before taking any action in relation to the matters dealt within this publication. A Disclosure Statement is available on request and free of charge.
Finservice Pty Ltd (Mortgage Express) is authorised as a corporate credit representative (Corporate Credit Representative Number 397386) to engage in credit activities on behalf of BLSSA Pty Ltd (Australian Credit Licence number 391237) ACN 123 600 000 | Full member of MFAA | Member of Credit Ombudsman Services Ltd (COSL) | Member of Choice Aggregation Services.