A new lender is on the rise: The Bank of Mum and Dad. A recent survey (June 2017) reveals as much as one in three first home buyers are getting help from their parents to get onto the property ladder. And as property prices continue to spiral upwards, that number looks set to grow even more. Read on to find out more about this lending option.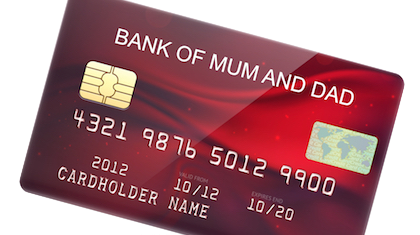 Getting financial help
Results from a survey undertaken in June 2017 by comparison website Mozo.com.au show that nearly a third of home buyers are getting financial help from mum and dad, making the "bank of mum and dad" Australia's fifth largest lender behind the big four banks.
The survey results revealed that the most common way parents are helping is by allowing their children to live rent free while saving their deposit. A growing number act as guarantor on loans, help with repayments, and even partner with their children to buy property.
Around two thirds of parents surveyed did not expect to be repaid, while 9 per cent have delayed retirement in order to help their children, the survey revealed.
"For many first home buyers, house prices around Australia can be absolutely daunting. It can take years to scrimp and save for a home deposit, all the while house prices continue to skyrocket, becoming increasingly inaccessible,'' said Kirsty Lamont, Mozo director.
A family guarantee loan
One of the ways in which many parents are helping their children into their own homes is through a family guarantee loan: Using the equity in their own home as security for their children's home.
And the benefits are significant: it lets children buy now rather than having to wait years while saving their deposit, and more importantly, if their loan-to-value ratio (LVR) is at 80 per cent or below, they'll save on mortgage insurance which could amount to tens of thousands of dollars.
The family guarantee is limited to a fixed amount, for example, 20% of the purchase price, and the loan remains in your children's name. Not all lenders offer a family guarantee loan, so it's worthwhile talking to your mortgage broker if you are considering this option.
Parents who decide to help their children need to be aware of the risk of tapping into the equity in their own homes and putting off retirement, while at the same time ensuring that their children are able to meet their mortgage repayments and financial responsibilities.
A viable option
For many first home buyers, without mum and dad's help, entry into the property market would simply be impossible. Whether you choose to gift them the cash or act as a guarantor to give them a step up onto the property ladder, it's vital you seek legal and financial advice from an expert before making any decisions.
References:
https://mozo.com.au/home-loans/articles/bank-of-mum-and-dad-the-fifth-biggest-home-loan-lender-report-2-17
https://www.northernstar.com.au/news/bank-of-mum-and-dad-australias-11th-biggest-lender/3215607/
https://www.domain.com.au/news/a-broken-property-market-bank-of-mum-and-dad-funding-a-third-of-firsthomes-20170905-gybmsa/
https://www.mortgagebusiness.com.au/breaking-news/11424-affordability-issues-have-borrowers-turning-to-mum-and-dad?utm_source=MortgageBusiness&utm_campaign=MBDaily%20bulletin28_08_17&utm_medium=email&utm_content=2
https://www.yourlifechoices.com.au/finance/finance-news/mum-and-dad-make-up-the-big-five
---
Disclaimer:
While all care has been taken in the preparation of this publication, no warranty is given as to the accuracy of the information and no responsibility is taken by Finservice Pty Ltd (Mortgage Express) for any errors or omissions. This publication does not constitute personalised financial advice. It may not be relevant to individual circumstances. Nothing in this publication is, or should be taken as, an offer, invitation, or recommendation to buy, sell, or retain any investment in or make any deposit with any person. You should seek professional advice before taking any action in relation to the matters dealt within this publication. A Disclosure Statement is available on request and free of charge.
Finservice Pty Ltd (Mortgage Express) is authorised as a corporate credit representative (Corporate Credit Representative Number 397386) to engage in credit activities on behalf of BLSSA Pty Ltd (Australian Credit Licence number 391237) ACN 123 600 000 | Full member of MFAA | Member of Credit Ombudsman Services Ltd (COSL) | Member of Choice Aggregation Services.