When you're starting a family – or growing your family – the last thing you want to worry about is getting approved for a mortgage. But if you're pregnant or a new parent taking parental leave, you'll likely be on minimal or no income for a while, and that could impact your ability to get home loan approval. If you are considering applying for a mortgage while on parental leave or with a new baby on the way, in this article we'll hopefully cover some of the concerns you might have.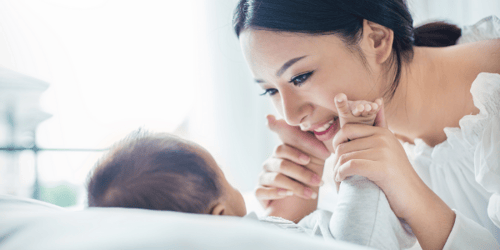 A change to your income
In assessing a home loan application, lenders will look at all income, assets, debts and expenses to determine whether the applicant can afford to repay their mortgage. If one of the borrowers is planning to take time off from work – as in the case of parental leave to have a baby – the lender wants to be assured that the mortgage repayments won't be impacted by a lower income or no income.
As parental leave pay is usually lower than your regular income, if you are planning to apply for a mortgage while on parental leave or while you're pregnant, it's worthwhile getting a letter from your employer confirming you will be returning to work and what your income will be. Likewise, if your employer tops up your parental leave entitlements, having written confirmation of this additional income could support your home loan application.
Use this borrowing power calculator to get an indication of how much you might be able to borrow given your income, obligations and expenses.
Extra child care costs
Along with a drop in income due to parental leave or indefinite time off work, you'll also need to think about the additional costs that raising a baby will incur.
In a study conducted by The University of Canberra, it's estimated that low income families ($1,160 per week) spend on average 7.4 per cent of their earnings raising a child aged 0 – 4, while high income families ($4,984 per week) spend roughly 4.6 per cent.
These extra child care expenses will need to be factored into your budget. Your lender will also use these calculations to determine your ability to repay your mortgage. That could mean having to adjust your expectations and getting a smaller loan amount approved.
This budget planner template will help you accurately capture your household's income and expenses.
A long term commitment
A mortgage is a significant financial commitment and one you make for the long term. So before you commit, it's important you have a good idea of what you can realistically afford to repay.
Assessing your current financial situation and factoring in the extra costs of a new baby is a good place to start when determining your financial capability. Use this home loan repayment calculator to get some idea of what your mortgage repayments could look like.
Working with a mortgage broker – like Mortgage Express – will put you in the best position to make an informed decision about your mortgage. A mortgage broker can also help you calculate your borrowing capacity and help you find the best lending option to fit your situation. If you have questions about applying for a mortgage with a baby on the way, get in touch with us today.
---
While all care has been taken in the preparation of this publication, no warranty is given as to the accuracy of the information and no responsibility is taken by Finservice Pty Ltd (Mortgage Express) for any errors or omissions. This publication does not constitute personalised financial advice. It may not be relevant to individual circumstances. Nothing in this publication is, or should be taken as, an offer, invitation, or recommendation to buy, sell, or retain any investment in or make any deposit with any person. You should seek professional advice before taking any action in relation to the matters dealt within this publication. A Disclosure Statement is available on request and free of charge.
Finservice Pty Ltd (Mortgage Express) is authorised as a corporate credit representative (Corporate Credit Representative Number 397386) to engage in credit activities on behalf of BLSSA Pty Ltd (Australian Credit Licence number 391237) ACN 123 600 000 | Full member of MFAA | Member of Australian Financial Complaints Authority (AFCA) | Member of Choice Aggregation Services.