There's a lot to think about when viewing a property for the first time, and it's easy to overlook things or forget to check important items. It helps to have a checklist of the things you need to think about so you don't forget anything important. Here's an outline of what to look out for at an open home when buying a property in Australia, along with a handy checklist you can download and take along with you.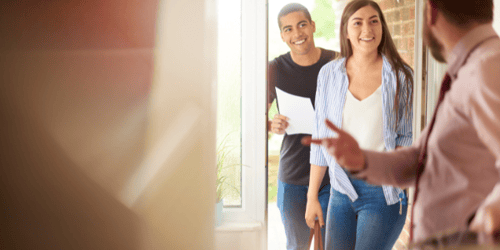 Location and situation
Recent weather events in Australia highlight the importance of knowing the risk of a property's location and situation when buying a home. Those areas impacted by flash flooding and bushfires are likely to see more extreme weather events due to climate change and global warming, a risk that has far-reaching financial and economic consequences on property values, home loan viability, and the cost of insurance premiums.
When viewing a property for the first time, check how the property is situated and whether it may be impacted by flooding or poor drainage. A house on a slight slope or a property that has some elevation might be a better option. Check local council flood maps to see if there is a history of flooding.
Other considerations to factor in when thinking about the location or situation of a property are:
Nearby construction such as new roads, homes or shopping outlets – how will this affect the value of your property?

Proximity to negative factors such as factories, jails or sewerage works.

Sources of noise nearby – clubs or bars, train stations, major roadways or sports grounds.

A good view, access to a breeze, or exposure to high winds.

Nearby facilities including parks, walking tracks or recreation.
Inside the property
An open home is your chance to have a good look around and check if the property meets your requirements. Key things to look out for include:
The floors: Check floors are level, no damp patches on carpets, and floorboards are sturdy.

The plumbing: Flush toilets, turn on shower, and run taps to check water pressure.

Insulation and ventilation: Check in-home heating and cooling such as air cons or ceilings fans and double glazing on windows.

Ceilings and walls: Look for signs of sagging, cracking or mould that could indicate a serious problem.

Gas and electrics: Check light switches and outlets, try the gas hob, and look at the fuse box to see if it's been updated.

Doors and windows: Check these close properly and look for gaps or swollen wood that could indicate a watertight issue.

Storage: Open cupboards and drawers, and check that built in cupboards offer sufficient storage space.

Layout and room size: Review functionality of the layout and determine whether your furniture will fit in the space.

Security: Look for an alarm system, and check doors and windows can be safely secured.
Outside the property
Spend some time walking around the exterior of the property, paying careful attention to:
Off-street parking: Check there is enough parking on the property and the street for you and your visitors.

Vegetation: Trees that block out light inside, disrupt a view, or overhang the roof may need to be trimmed back.

The aspect: Which way the property faces will affect how much sun it gets and when.

Building materials: Check what cladding has been used and what material the roof is.

Gutters and drainage: Look for damage or signs of blockages such as plants or debris in gutters.

Paths: Assess access to the property and the general condition of outside pathways.

Decks, lawns, and retaining walls: Check the condition of garden and lawns and look for signs of disrepair on decking and retaining walls.

Windows and paintwork: Look for signs of cracking or rot, or areas that have been filled in and painted over.

Under the house should be dry and pest-free.
Download this handy checklist from Genworth and take it along with you to your next open home viewing.
Do your homework
When you find a property you want to buy, it's important you find out as much as you can about it before you make an offer.
Hire a property inspector to check the structure of the property and also arrange a pest inspection. Review the official documents and have your conveyancer check for any areas of concern. And ensure your finances are prepared ahead of time so you can move quickly with an offer that secures the sale.
Get in touch with the team of mortgage brokers at Mortgage Express to talk about your finances and get pre-approval.
---
While all care has been taken in the preparation of this publication, no warranty is given as to the accuracy of the information and no responsibility is taken by Finservice Pty Ltd (Mortgage Express) for any errors or omissions. This publication does not constitute personalised financial advice. It may not be relevant to individual circumstances. Nothing in this publication is, or should be taken as, an offer, invitation, or recommendation to buy, sell, or retain any investment in or make any deposit with any person. You should seek professional advice before taking any action in relation to the matters dealt within this publication. A Disclosure Statement is available on request and free of charge.
Finservice Pty Ltd (Mortgage Express) is authorised as a corporate credit representative (Corporate Credit Representative Number 397386) to engage in credit activities on behalf of BLSSA Pty Ltd (Australian Credit Licence number 391237) ACN 123 600 000 | Full member of MFAA | Member of Australian Financial Complaints Authority (AFCA) | Member of Choice Aggregation Services.