How often have you headed off on a holiday only to return feeling sick and germ-infested? You're not alone. When you consider the combination of different foods and drink, lack of sleep, sun exposure, contact with crowds of people, and new environments, it's not surprising so many people fall ill on their return from a holiday. To help you stay healthy on your next holiday, here are a few simple tips to follow.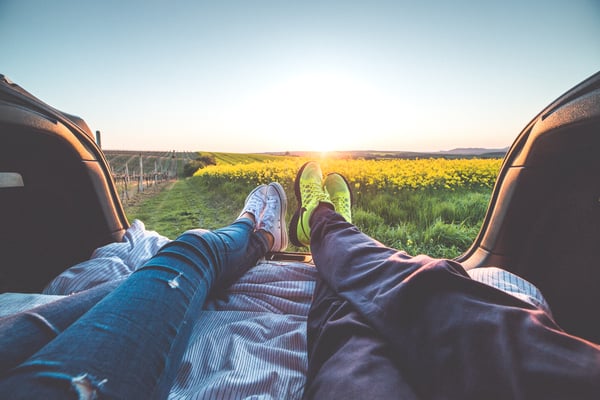 1. Wash your hands
Hand washing is the simplest yet most effective means of controlling infection and is particularly important when you're travelling. Properly washing your hands can dramatically reduce your chances of contracting stomach-related illnesses or even Hepatitis A.

Some travellers choose to carry small bottles of hand sanitiser which are an excellent back-up if you don't have immediate access to soap and water. Wherever possible, wash your hands under hot water for at least 30 seconds before and after eating and always after going to the toilet.

Be mindful of germy surfaces you could be touching and consider carrying bacterial wipes in your travel bag to wipe down surfaces like tables when you're eating a meal out.

2. Stay hydrated
International flights can take its toll on your body: low levels of humidity in the aircraft can cause your nose and throat to dry up making you more susceptible to germs and infections.

Drink plenty of water throughout your journey to stay hydrated and go easy on the alcohol and caffeine while flying as it can dehydrate you. Once you arrive at your destination, if you can't be sure of the purity of the local water, drink bottled water instead. And be aware of coming into contact with water that may not be purified when brushing your teeth or when adding ice to your drinks.

3. Get moving
One of the best ways to avoid illness or fight off infections is to stay active. Exercise has been proven to improve overall health and wellbeing and help strengthen your immune system making you less susceptible to illness.

It can be particularly beneficial when you're travelling: if you do get sick while on holiday, being fit and healthy means you'll fight off any infections much faster so you don't miss out on too much of your holiday.

Get out for a walk each morning to explore the destination you're visiting, go hiking in the countryside, walk or run along the beach or go for a swim in the sea.

4. Vaccinate and vitamins
To pre-empt any nasty bugs, you may want to build up your immune system with some Vitamin C supplements before you leave and while you're travelling. Vitamin B or a good multi-vitamin can also give your immune system the boost it needs and amp up your energy levels, all important when you consider how tiring travel can be.

Ensure you familiarise yourself with the medical requirements for the destination you're visiting and check your routine vaccinations are up to date. It's worthwhile talking to your doctor before you travel, particularly if you're visiting a malaria or yellow fever area where more specialised medical treatment and preventative measures are required.

Taking care of you and your family
Staying healthy while you travel shouldn't be hard; with a few simple measures you can ensure your holiday plans don't get side-swiped with an illness.

If you're thinking about heading off these holidays to somewhere exotic but your budget doesn't quite stretch that far, talk to a Mortgage Express broker about refinancing your home or investment property to free up a little equity to help get you there.


---
Disclaimer:
While all care has been taken in the preparation of this publication, no warranty is given as to the accuracy of the information and no responsibility is taken by Finservice Pty Ltd (Mortgage Express) for any errors or omissions. This publication does not constitute personalised financial advice. It may not be relevant to individual circumstances. Nothing in this publication is, or should be taken as, an offer, invitation, or recommendation to buy, sell, or retain any investment in or make any deposit with any person. You should seek professional advice before taking any action in relation to the matters dealt within this publication. A Disclosure Statement is available on request and free of charge.
Finservice Pty Ltd (Mortgage Express) is authorised as a corporate credit representative (Corporate Credit Representative Number 397386) to engage in credit activities on behalf of BLSSA Pty Ltd (Australian Credit Licence number 391237) ACN 123 600 000 | Full member of MFAA | Member of Australian Financial Complaints Authority (AFC