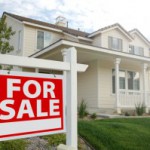 When you're selling your home it's important to keep in mind that first impressions count. And the first thing that a potential buyer will see of your home, is how it looks on the outside from the street. It's widely agreed that homes with appealing front views sell faster and command higher sale prices. Here are our tips for improving your home's street appeal before you list it.
Tidy up your mailbox
Most prospective buyers will be looking for a home that has been well loved and properly maintained, so show them that you care about your home starting with your mailbox. Invest in a new mailbox, add contemporary numbering, or if you're on a budget, simply clean up your existing mailbox ensuring it's clean, cobweb free and securely screwed in place.
Brighten up your front door
Make the front of your home appear inviting and appealing. A fresh coat of paint can make all the difference; choose something bright and glossy to draw attention or something more subtle. Add features like a shiny new doorknob and an interesting knocker to spruce up the outside of your front door. Your garage door takes up a lot of visual space so consider painting that too.
Tidy the garden
Don't underestimate the importance of a well-maintained garden. Trim back any overhanging hedges and trees to emphasis space. Rake up any leaves and mow the lawns including the outside berm. Camouflage any areas that may be considered an eyesore using fencing or strategically placed pot plants. Add colour to your garden using flowers, stones or paving.
Add structure to your front yard
A shabby driveway or path can deter any prospective buyers and create a lasting bad impression. Repair or replace any split cement and stone in your driveway, paving or paths in your front yard. High pressure hose any dirty or mouldy sections of your driveway, and fix any broken fencing or give it a lick of paint. Add a fence for privacy and security, or to block out any street noise.
Outdoor lighting
Many prospective buyers will drive by after work for a look at your home, so make your home look attractive at night time too by adding outdoor lighting. Replace small light fixtures with bold, statement pendant lights or add recessed lighting under the eaves and solar lighting along your front path and driveway. Ensure your home is well lit up with strategically placed outdoor lighting to emphasise areas in your garden or the front of your home.
Accessorise your home
If you have an outside area that can be seen from the street, show off that area with stylish outdoor furniture and colourful cushions to complement your home. A new doormat, outdoor art and contemporary pots are extra little touches.
Spruce up your windows, gutters and downpipes
Ensure your windows are sparkling clean and wash any curtains or blinds and hang them neatly. Tidy any peeling window frames with a lick of paint, and replace any broken guttering or downpipes. Make your home's exterior look fresh and clean by washing down the outside of your home and cleaning off any cobwebs.
Get ready to sell
Improving the outside of your home can make a huge difference when you're trying to sell. It often creates a lasting impression for any potential buyers. If you need help financing your home improvements to get ready to sell, talk to us about a finance solution.