Earlier in July 2017, the Reserve Bank announced that it would be keeping the official cash rate on hold at a record low 1.5 per cent. The RBA is likely to continue holding rates in the short term, while it monitors the effects of the new tougher measures introduced for investors and interest-only borrowers. However, warnings of future rate increases have many borrowers considering a fixed-rate mortgage.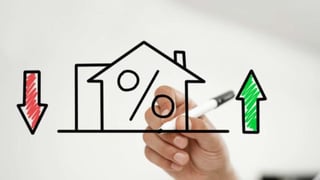 Interest rates on hold
Head of Research at CoreLogic, Tim Lawless, says the cash rate is likely to remain on hold amid falling unemployment, a slowing housing market, and inflation at just 1.9 per cent, below the RBA's target range of 2 – 3 per cent.
But Australian home owners are being warned to brace themselves against possible rate hikes following the minutes of the Reserve Bank's meeting in July 2017, that intimated economic stability would only be achieved at the "neutral real interest rate" of 3.5 per cent; 2 per cent higher than the current record low.
Looming rate rises have many borrowers concerned about the impact of possible future increases on debt serviceability, and many are considering moving to a fixed-rate mortgage.
When to fix
While the decision to move to a fixed-rate mortgage will largely depend on your personal circumstances, home loan specialists have provided some general guidelines. For first home buyers, single home owners and couples without children, where a low interest rate is more important than a fixed rate, specialists recommend taking advantage of current low-rate variable offers.
Those on a single income with young dependants require a much higher level of security, often preferring guaranteed fixed mortgage repayments. Home loan specialists recommend part-fixing your mortgage in this case, to balance the security of a fixed interest rate with the savings of a variable low rate.
Experienced borrowers, often dual income families, are more likely to handle the financial implications of a potential rate rise, so should take advantage of record low interest rates. Similarly, those nearing retirement and close to paying off their mortgage should steer clear of fixed rates and focus simply on paying down their debt.
Preparing for a rate rise
Making extra payments now while interest rates are low to pay down your mortgage quicker, chipping away at credit card debt, motor vehicle repayments and personal loans, shopping around for a better finance deal, and looking at your options with regards to fixing your mortgage rate, are just some of the ways you can prepare for a potential rate rise.
If you need advice around what would work best for you when it comes to interest rates, talk to a Mortgage Express broker.
References:
http://www.abc.net.au/news/2017-07-04/reserve-bank-interest-rates-on-hold/8677220
http://www.news.com.au/finance/money/wealth/fixed-rate-demand-at-threeeyar-high-as-uncertainty-reigns/news-story/899b317beafeb0bfc17f4fb714189fa0
http://www.news.com.au/finance/money/budgeting/five-tips-to-prepare-for-future-rate-rises/news-story/b596fc3d165f14a081e61b17d51f32d7
---
Disclaimer:
While all care has been taken in the preparation of this publication, no warranty is given as to the accuracy of the information and no responsibility is taken by Finservice Pty Ltd (Mortgage Express) for any errors or omissions. This publication does not constitute personalised financial advice. It may not be relevant to individual circumstances. Nothing in this publication is, or should be taken as, an offer, invitation, or recommendation to buy, sell, or retain any investment in or make any deposit with any person. You should seek professional advice before taking any action in relation to the matters dealt within this publication. A Disclosure Statement is available on request and free of charge.
Finservice Pty Ltd (Mortgage Express) is authorised as a corporate credit representative (Corporate Credit Representative Number 397386) to engage in credit activities on behalf of BLSSA Pty Ltd (Australian Credit Licence number 391237) ACN 123 600 000 | Full member of MFAA | Member of Credit Ombudsman Services Ltd (COSL) | Member of Choice Aggregation Services.