According to the Reserve Bank of Australia, the nation spent an estimated $30 billion dollars on credit cards in December 2017. Almost half of all Aussies won't be able to repay their Christmas spending within their interest-free period. If you're one of those who overspent during the holidays, it's time to take action. Here's how we suggest you manage your Christmas debt hangover.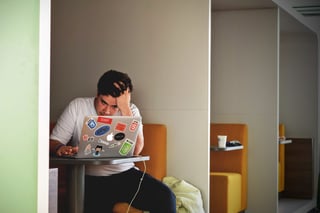 A staggering amount of spending
In October 2017, Reserve Bank figures showed a total $27.45 billion spent in credit card purchases across Australia. Trends in spending indicate that figure jumps on average 10 per cent higher during December, suggesting an estimated $30 billion dollars was likely spent in December. The Reserve Bank is due to release actual figures in February 2018.
A survey undertaken by Australia's largest comparison website, Finder.com.au, has revealed that four out of five credit card holders plan to pay off their Christmas debt in three months or less, while one in five will take longer than three months to service their debt.
Insights manager at Finder, Graham Cooke says, "This over-reliance on credit cards in December means the cost of Christmas is carried well into the new year and could take a toll on household budgets throughout 2018."
Mr Cooke said credit card holders should consider transferring credit card debt to a card with an interest-free period in order to minimise interest charges.
"A balance transfer could give credit card holders the chance to make more headway on their outstanding balance, especially if they're having difficulty making repayments."
But, Consumer Action chief executive, Gerard Brody urged caution, saying a balance transfer credit card can exacerbate people's problems if they are not disciplined enough to pay off their debt within the interest-free period, after which these types of cards often revert to a much higher interest rate.
So, what are your options?
Even a sizeable credit card debt can be repaid if you are diligent and disciplined about making repayments and you stop spending. Here's an outline of the suggested steps to take:
Work out how much you need to repay. You can use the InfoChoice Credit Card Repayment Calculator to determine your exact repayments.
Research a low interest or zero interest balance transfer credit card and decide whether this option would work for you. There are several balance transfer options available at present so check with your bank and shop around online.
Consider consolidating your debt into a personal loan with a much lower interest rate and a set repayment schedule. That way you'll know up front how much you need to pay each month and can chip away at your debt.
Refinance your mortgage: If you have a large debt, it may make sense to refinance your home loan and add in your consumer debt. Remember, your debt will be spread over 25 or 30 years which means you'll end up paying more in the long term.
Take control now
However you plan on managing your Christmas debt hangover, it's vital you start right away. Seek financial advice if you're unsure how best to proceed. Talk to a Mortgage Express broker who can help you formulate a financial plan for the year ahead.
References:
https://www.mortgagebusiness.com.au/breaking-news/11827-aussies-accumulated-29-billion-of-christmas-debt?utm_source=MortgageBusiness&utm_campaign=MBDaily%20bulletin10_01_18&utm_medium=email&utm_content=4
http://www.smh.com.au/money/borrowing/australia-wakes-up-to-30b-credit-card-hangover-20180110-h0gb1o.html
http://www.infochoice.com.au/banking/credit-card/guides/do-you-have-a-christmas-credit-card-debt-hangover-43129/
---
Disclaimer:
While all care has been taken in the preparation of this publication, no warranty is given as to the accuracy of the information and no responsibility is taken by Finservice Pty Ltd (Mortgage Express) for any errors or omissions. This publication does not constitute personalised financial advice. It may not be relevant to individual circumstances. Nothing in this publication is, or should be taken as, an offer, invitation, or recommendation to buy, sell, or retain any investment in or make any deposit with any person. You should seek professional advice before taking any action in relation to the matters dealt within this publication. A Disclosure Statement is available on request and free of charge.
Finservice Pty Ltd (Mortgage Express) is authorised as a corporate credit representative (Corporate Credit Representative Number 397386) to engage in credit activities on behalf of BLSSA Pty Ltd (Australian Credit Licence number 391237) ACN 123 600 000 | Full member of MFAA | Member of Credit Ombudsman Services Ltd (COSL) | Member of Choice Aggregation Services.