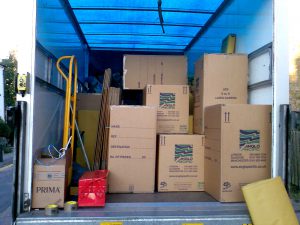 Moving home is an exciting time. But it can be expensive if you don't take the right steps to minimise costs. Planning ahead, setting a budget, and having a clear out of unused household items are just some of the ways you can reduce moving costs. To help make your journey into your new home as affordable as possible, here are our tips for minimising costs when moving home.
Plan ahead
Prepare your moving budget well in advance, detailing all of the costs you'll likely be faced with. These could include removal company costs, insurances, shipping, packing materials, cost of moving your pets, as well as any extra costs you may have in your new home.
Pack your things yourself
By packing the smaller household items in your home, like crockery and cutlery, clothing and books, yourself, you'll save on the cost of paying a professional moving company to do this for you. Remember to make time to clear out anything you no longer need before you start packing, as the more household items you have, the more it will cost you to move.
Find the right removal company
If you're set on using a professional moving service, shop around for the best deal. Contact a number of removal services and compare prices. Consider what you're getting for the cost of your move; does the service include packing? What insurances are included for breakages? And book your move as early as possible to ensure you don't miss out on the removal company you want.
Consolidate and cut down
This is particularly important if you're downsizing your home; consider all of the household items you have and why you need them. Do you have a second set of dinnerware that you haven't used in years? If you're moving to a home without a garden, will you still need a shed full of gardening equipment? A garage sale is a great way to get rid of those items you no longer need, or drop them off at your local charity store.
Review your utility bills
Moving home is a good time to review your utility providers to ensure you're getting the most cost-effective package. When comparing providers, be sure to factor in any cancellation fees you could be charged when switching over to a new provider.
DIY Packing Materials
When it comes to packing materials, it's easy to spend a lot of money on boxes and bubble wrap. First try your local supermarket or grocery store as most have a supply of old cardboard boxes that work just as well. Pack smaller household items between bed linen and towels to prevent breakage, or use old newspaper or paper plates between dinnerware and glasses.
Use online apps
Along with apps that will track what's packed in each box, create a moving to-do list, or help you draw up a moving budget, many service providers have apps that will update your address and phone number and re-route your mail, let your utility providers know you're moving, and even sign you up for a new insurance policy, quickly and conveniently, in the comfort of your home.
Get a good deal on your mortgage
It's important you've carefully reviewed your mortgage to ensure you're getting the best deal you can. Talk to one of our mortgage experts before making any decisions.