Mortgage broking has experienced significant growth in recent years and despite the challenges associated with COVID-19, it's an industry that has continued to go from strength to strength throughout 2020.
The country's love affair with real estate has not waned throughout the pandemic and at the very least, it has forced people to look more closely at their finances and make decisions accordingly.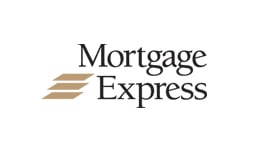 Independently owned, yet forming part of the Harcourts Group Australia, boutique broking group Mortgage Express is one such company that is welcoming that fresh talent with open arms, creating a People First culture that is fostering that talent to new and exciting heights.With the adoption of new technology and the ability to write mortgages digitally, some brokerages have enjoyed such an influx in clients, that people are literally walking out on their current careers to become mortgage brokers
An Incredible Partnership
Mortgage Express CEO Vicky Devine said the backing of the Harcourts Group made Mortgage Express an attractive place to both begin or continue a career as a mortgage broker.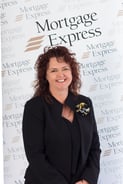 "Having Harcourts behind us means new brokers coming into the industry are guaranteed to have a relationship with at least one real estate agent," Ms Devine explained
"The ability to quickly establish professional networks, industry networks and lead generation networks are key factors that anyone looks at when joining the industry."
Ms Devine said the rapid growth of Mortgage Express was mostly to do with a great training program and the ability to attract the right people, which have included a number of new female brokers have immediately made their mark.
"The industry keeps saying there aren't enough female brokers, but if you look at who we have recruited in the past 6 months, it shows that there are females coming in.
"We have a lot of conversations prior to hiring anyone and at the end of the day it is the person you are taking on regardless of an industry specific skill set. If they can have a good conversation and communicate with us, then they are away."
An Attractive Place to Ply Your Trade
Walking away from one career to embark on a new, totally foreign, one would be a daunting task for anyone, but for fresh-faced brokers Kelly Podlich and Alisha Scappin, it was made all the more easy by the uniqueness of the Mortgage Express brand.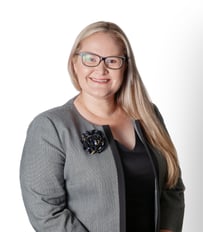 "I was looking for a new challenge where I could utilise both my chartered accounting qualifications and real estate experience, and mortgage broking was sitting right under my nose," Ms Podlich said (photo right).
"As the Group Financial Controller with Harcourts International, there are so many parallels in terms of helping people achieve their goals, understanding complex business structures and finding financial solutions. I already knew Vicky and Karen (Laursen, Mortgage Express' National Broker Support Manager). It was an easy decision - their knowledge, professionalism and passion is infectious and something I really wanted to be around."
Ms Scappin also came from a completely different role within the greater Harcourts network, explaining that after considering starting her own business for some time, she identified Mortgage Express as the perfect place to build on her foundation of marketing and sales skills to create her own brand.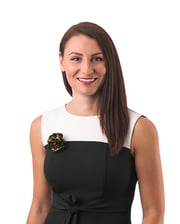 "During my time as the National Marketing Manager at Harcourts, I was lucky to gain exposure to the Mortgage Express business and many of the brokers in the team," she said.
"I observed their client-centric approach, and the joy they shared with their clients when a loan was approved. I have always been passionate about goal setting and financial intelligence, and with the skills and knowledge acquired during my career, it felt like a great fit."
Again, it was the leadership from Ms Devine and Ms Laursen that really got Ms Scappin over the line.
"After my initial attraction to the group, I found that the culture that permeates the whole broking team is outstanding – everyone is there to help one another. The belief the leadership team has in the brokers is inspiring and under their guidance, it's no surprise that Mortgage Express is thriving."
A Training Ground for Champions
Part of the Mortgage Express success can be attributed to the outstanding training and mentoring program that all brokers undergo.
A structured and industry approved learning syllabus adapted to each different broker according to where they are at in their careers, Ms Devine and Ms Laursen enjoy the privilege of taking new brokers from completing a 90-second elevator pitch to running their own self-sufficient businesses.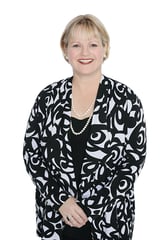 "Our industry feels passionately, as do Vicky and I, that giving our new people the best possible start is paramount to their longevity and the industry's health in general," Ms Laursen (photo left) explained.
"Our brokers are supported with a 101 bespoke program consisting of structured learning together with specific deal support and interaction skills. The relationship I have with my brokers develops over time, initially it's a lot of intensive training and hand holding, evolving into deal builds and support, then more complex lending structures including small business requirements or Self-Managed Super Funding for example.
"I'm incredibly excited at how the brokers have grown and put into practice what they have learnt. We already have a graduate of the program in our Top 10 brokers, nationally, and it appears that a few more of our team have every intention of making that list as well."
Ms Devine said given the commission based nature of the industry and the fact most are guided to them via referral, it was important to the leadership team that they give back by going on the journey with their staff.
"Our team is 100% commission based so it's important that we give them the right skills straight away so that they're able to serve their community responsibly. They also have a family to feed so we can't have them getting into debt. By coming to work for us, they are putting their trust in us, so we feel very strongly about giving them confidence and getting them up and going quickly and successfully."
A recent graduate, Ms Scappin said the confidence instilled by the training and mentoring program was second to none.
"It's not just the years of industry experience I can now lean on or the scripts and dialogues to use, it's the sharing of our processes and ideas with the leadership team which has then created a complete knowledge hub we can all tap into at any time."
Ms Podlich echoed those sentiments.
"The mentor program was tailored to my needs and experience. It wasn't just a cookie cutter approach; it significantly increased my confidence and fast-tracked my learning. I have felt totally supported throughout the whole process and know that this support doesn't end once I am more experienced," she added.
Creating Award-Winning Brokers
There's probably no better person than Victorian based broker Christine Penford to tell the Mortgage Express success story.
Having been a part of both Harcourts and Mortgage Express from the beginning in Victoria, Ms Penford has perfected her craft over an almost 20 year love affair with the industry, watching the Mortgage Express MX brand, along with her own business, grow exponentially.
A true inspiration for her fellow brokers, she was recently named the No 1 broker for Australia and Internationally.
"I like to think that as someone who has been around the industry and real estate business for so long (her husband Brent owns Harcourts real estate businesses) I really understand the way the entire process works.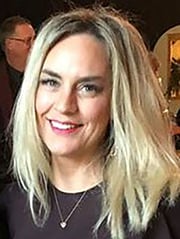 "I've got some great relationships with the offices and I'm really driven by the other successful brokers within Mortgage Express. There's also no doubt that my success would not be possible without the support of my family. The hours can be a little all over the place so to have them 100% behind me has certainly contributed."
Ms Penford said that as a career, mortgage broking does come with its pressure but that the positive far outweighed any of that.
"There's nothing better than helping someone realise their dream of owning their first home, investment or just generally relieving their financial stress," she explained.
"The ability to put someone in a better position financially than they were before they met you is quite humbling. As a person with a young family, it's also a perfect fit in terms of being able to enjoy a great work/balance, you have the flexibility to set your own appointments so that you don't miss out on anything with the kids."
Fellow award-winning broker Tracey Pye, also based in Victoria, is another of those making here mark in the industry, being named in the Top 10 Mortgage Express brokers throughout Australia over her almost 10-year career to date.
Her journey into mortgage broking is in interesting one, beginning in of all places, a fish and chip shop.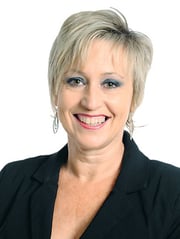 "Mortgage broking was really something that fell into my lap," she explained. "I was refinancing, and I completed the application form for the broker as I thought it would be quicker, he then suggested I should come and work with them. I wasn't interested at the time but one day someone walked in off the street and offered to buy my fish and chip shop, so I reached out to that broker and went from there.

Ms Pye said the choice to work for Mortgage Express was an easy one, considering its focus on creating the ideal team environment and the fully demonstrable care for its staff.
"Mortgage broking can be very lonely, so I liked the idea of working in an office and directly assisting agents (Harcourts estate agents) with their clients. Vicky also really displays a care for each one of her brokers. She understands the needs of each individual and provides the necessary help and support in the areas that are identified."
A Formidable Full-Service Environment
Harcourts Broadbeach-Mermaid Waters Principal, Wendy Lenaghan has had broker Kylie Damora working in-house with her team for almost a year now. She said Ms Damora had been fully integrated into the office and functions in her role perfectly as part of the greater group.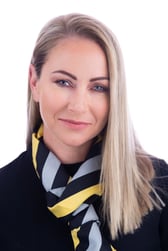 "We've fully involved Kylie (photo left) in our entire team. She attends sales meetings, she knows what's on the market, who's making offers and what's coming onto the market which really adds another string to our bow as a one stop shop real estate agency," Ms Lenaghan explained.
"We had a situation recently where we were live streaming an auction in-house but just didn't have enough people to handle all the bidders via phone so Kylie was able to step in and take bids - she really adds value across the board."
Ms Lenaghan said she had recently discussed the success of Mortgage Express with CEO Vicky Devine, the pair conversing over how much it had grown and what had made the current crop of brokers so confident and successful.
"I said to Vicky that we've seen a lot of different brokers since Mortgage Express began and that I felt the successful ones were the ones that engage best with the existing real estate teams. They really become part of the office and the group like Kylie has. It's fantastic for the brokers themselves to have a base, an office to come into and to be able to integrate with established staff members while also being available to us at a moment's notice.
"We (Mortgage Express and Harcourts) are about people first, and this (having an in-house broker) is just another way we can truly live up to our values."
An Individual Job with a Team Approach
CEO Vicky Devine said the company's values were entrenched in its brokers from the get-go, consistently being reflected in how they operate, in the decisions they make and the actions they take.
"I'm so super proud of all of these women. All of my brokers and I just love working with them. What I love is the interaction between team members, internal chats, helping each other and really caring about each other.
"They've really created their own support network, constantly communicating, sharing ideas and checking in - they all want to see everyone succeed to the point where they are actually missing each other throughout this COVID period," Ms Devine laughed.
Award-winning broker Ms Pye had this for anyone considering a career in the mortgage broking industry:
"Be prepared to work hard and stick with it. If you can find the right environment in which to thrive, this is a career that is very rewarding both personally and financially."
To find a broker, please click here.