There's a lot to think to about when it comes to moving home. And no matter how far you're going or the type of home you're moving into, moving house is undoubtedly one of life's most stressful times. Much of that stress revolves around how much it costs to move home, which is why planning a budget could help you determine where you could save and provide a realistic overview of much you're going to need to spend. Here are some of the costs to consider when moving home.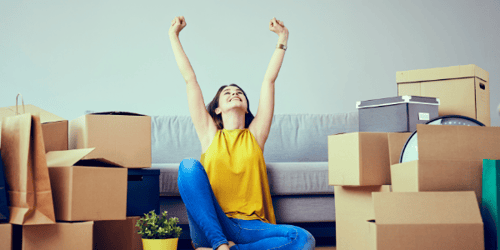 Real estate agent fees
Working with a real estate agent to sell your property ensures you get the best possible sale price for your home. A professional and experienced real estate agent will market your property, help you price it correctly, and manage the sales process from start to finish. Real estate agents charge either a flat service fee which stays the same no matter how much your home sells for, or a percentage commission based on the sale price of your home. Be sure to discuss the real estate agent fees with the agent before you commit to a contract.
Marketing costs
Getting your home in front of potential buyers is arguably the most important part of the sales process. And that means setting aside part of your budget for marketing costs. Marketing costs include things like professional photography, home styling or staging, signage and in-print or online advertising, all of which help present your home in the best possible light to potential buyers. These costs vary for each real estate agency and, while they are generally not mandatory, paying for marketing can help increase the overall sales price you achieve for your home.
Conveyancing fees
Conveyancing fees are the legal fees that are paid to your licensed conveyancer or solicitor to manage the documentation required for the transfer of ownership of a property from one person to another in any real estate sale. As an essential cost, these fees are unavoidable and need to be factored into your budget.
Lender fees
If you already have a mortgage on your existing home and you've applied for a new mortgage with a new lender, your current lender may charge mortgage discharge fees, settlement fees, or early exit fees if you end your fixed term early. Check with your lender or your mortgage broker to see if these costs apply. And consider staying with your existing lender to save on these costs.
Bridging finance
Sometimes it's not possible to buy a new home and sell an existing home at the same time, and there may be some overlap between the two processes. Bridging loans are an option if you need a short-term loan to cover the time between selling your existing home and buying your new home. This type of loan lets you make repayments on your existing loan and then pay off the interest on your bridging loan once your home is sold.
Other moving costs
When moving home, you may need to factor in these additional costs:
Movers – depending on how much you have in your home and how far you're going, you may be able to cut costs by doing some of the moving yourself, perhaps moving some of the smaller items or getting friends in to help shift some of the lighter pieces of furniture.
Storage – sometimes it's not possible to move directly from your old home into your new one and you may need to pay for storage of your furniture until your home is ready for you. Declutter as much as you can before you start packing to minimize the cost of storage.
Cleaning – moving out of a rental may require you to pay for a professional end-of-tenancy clean. Shop around for the best price or consider doing it yourself to save on cleaning fees.
Packing materials – check out your local supermarket for cardboard boxes and packaging material, which is usually free to anyone who collects it, or ask around anyone who has recently moved and re-use old boxes. Use clothing, bedding or towels as space fillers to pack between breakable items.
To find out more about finance options for a new home, get in touch with our team of professional mortgage brokers today.
References: Genworth
---
While all care has been taken in the preparation of this publication, no warranty is given as to the accuracy of the information and no responsibility is taken by Finservice Pty Ltd (Mortgage Express) for any errors or omissions. This publication does not constitute personalised financial advice. It may not be relevant to individual circumstances. Nothing in this publication is, or should be taken as, an offer, invitation, or recommendation to buy, sell, or retain any investment in or make any deposit with any person. You should seek professional advice before taking any action in relation to the matters dealt within this publication. A Disclosure Statement is available on request and free of charge.
Finservice Pty Ltd (Mortgage Express) is authorised as a corporate credit representative (Corporate Credit Representative Number 397386) to engage in credit activities on behalf of BLSSA Pty Ltd (Australian Credit Licence number 391237) ACN 123 600 000 | Full member of MFAA | Member of Australian Financial Complaints Authority (AFCA) | Member of Choice Aggregation Services.