With financial year end not far off, it's a good time to start thinking about preparing your tax. There are a few things you can do ahead of June 30 to help you get ready for tax time 2021. Things like organizing your paperwork, prepaying any expenses in this financial year, and setting a budget for the new financial year.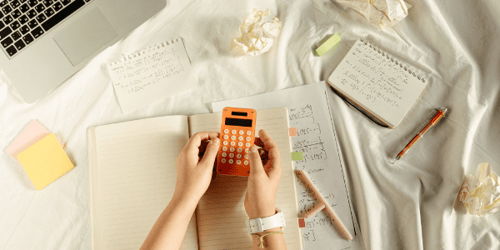 1. Organize your paperwork
When it comes to preparing for tax time, the more organized you are, the less stressful the process and the more likely you are to maximise your deductions.

Start gathering together all of your records and receipts, along with:

• A copy of last year's tax return.
• Records of any sales or purchases of shares, business or property.
• Private health insurance details.
• Your spouse's details (if applicable).
• Children's details including date of birth.
• A list of all your income, including payment summaries, rental income, interest and dividends and any foreign income.
• A list of all your expenses, including work-related expenses, donations, self-education expenses and accountant fees.

If you've been working from home for any part of this financial year, ensure you have everything you need to claim a deduction for your home office expenses. In response to COVID-19, the ATO has introduced a shortcut method which can be used when claiming deductions for the 2020-2021 financial year.

The shortcut method allows you to claim 80 cents for every hour worked from home over the year, but you must have kept a record of the hours you've worked from home in either timesheets, a roster or a diary. Find out more here.

2. Prepay expenses in this financial year
If you expect your income to be lower in the next financial year, you could boost your tax refund for this financial year by paying for any expenses before June 30. That way these expenses are included in this year's tax deduction.

To claim work-related expenses, you must have spent the money and not have been reimbursed, and the expense must directly relate to you earning your income. If your claim for work-related expenses is more than $300, you'll need to show proof of these expenses so ensure you have all receipts on hand ahead of tax time.
3. Budget for the new financial year
To get control of your spending and work towards achieving your financial goals, it's a good idea to set a budget for the new financial year. A monthly budget is a useful financial planning tool that allows you to plan how much you will spend or save each month, while tracking your spending habits. A budget is an important part of keeping your financial house in order!
Get ahead at tax time
It's been an unusual year, and for many of us, that's meant a change to how we work. Along with any disruptions to income, there may also have been extra expenses relating to a home office. To ensure you're prepared for tax time, it's a good idea to start getting organized now.
If you'd like to talk to someone about your financial situation or your existing mortgage, and perhaps set in place a road map for the new financial year, contact Mortgage Express and one of our brokers will be in touch to set up a time to meet.
---
Disclaimer:
While all care has been taken in the preparation of this publication, no warranty is given as to the accuracy of the information and no responsibility is taken by Finservice Pty Ltd (Mortgage Express) for any errors or omissions. This publication does not constitute personalised financial advice. It may not be relevant to individual circumstances. Nothing in this publication is, or should be taken as, an offer, invitation, or recommendation to buy, sell, or retain any investment in or make any deposit with any person. You should seek professional advice before taking any action in relation to the matters dealt within this publication. A Disclosure Statement is available on request and free of charge.
Finservice Pty Ltd (Mortgage Express) is authorised as a corporate credit representative (Corporate Credit Representative Number 397386) to engage in credit activities on behalf of BLSSA Pty Ltd (Australian Credit Licence number 391237) ACN 123 600 000 | Full member of MFAA | Member of Australian Financial Complaints Authority (AFCA) | Member of Choice Aggregation Services.