Mortgage brokering has traditionally been regarded as a male-dominated industry, but is now seeing a growing number of women stepping into these finance roles. This month we're celebrating the achievements of just some of the women making their mark in the mortgage brokering industry right here at Mortgage Express, with some insight into why they do what they do.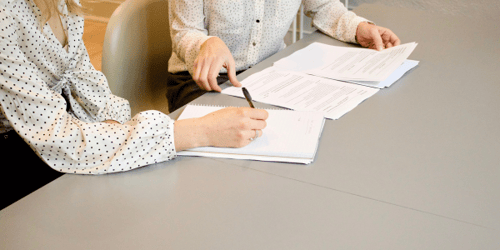 More opportunities for women
In the 2019 MFAA Opportunities for Women Report, MFAA CEO Mike Felton said, "Women are vital to the finance broking industry as they bring different perspectives, values, strengths and weaknesses that are necessary to business success."
"As females make the majority of financial decisions, having the ability to understand our customers becomes imperative to the performance, competitiveness and sustainability of our industry," he said.
It's this empathetic approach to customers that many women in finance roles consider to be their advantage.
Victorian-based mortgage broker, Christine Penford – recently named number 1 broker for Australia and internationally – attests to this and says, "The ability to put someone in a better position financially than they were before they met you is quite humbling.
Fellow award-winning broker Tracey Pye, also based in Victoria, is another mortgage broker making her mark in the industry, having been named one of the Top 10 Mortgage Express brokers throughout Australia.
"Vicky (Devine – CEO of Mortgage Express Australia) really displays a care for each one of her brokers. She understands the needs of each individual and provides the necessary help and support in the areas that are identified," says Tracey.
Fresh opportunities
Despite the economic challenges of COVID-19, the mortgage industry continues to grow in strength, providing more opportunities for those embarking on a new career as mortgage broker; in particular, two recent recruits for Mortgage Express, Alicia Scappin and Kelly Podlich.
While not new to the finance industry, Kelly Podlich joined Mortgage Express following a successful career as Group Financial Controller for Harcourts International.
"Once I met Vicky and Karen (Laursen, Mortgage Express' National Broker Support Manager), it was an easy decision - their knowledge, professionalism and passion is infectious and something I really wanted to be around."
Alicia Scappin also came from a completely different role within the greater Harcourts network, having identified Mortgage Express as the perfect place to build on her foundation of marketing and sales skills to create her own brand.
"I observed Mortgage Express' client-centric approach, and the joy they shared with their clients when a loan was approved."
"I found that the culture that permeates the whole brokering team is outstanding – everyone is there to help one another. The belief the leadership team has in the brokers is inspiring and under their guidance, it's no surprise that Mortgage Express is thriving."
That leadership comes in the form of the formidable Vicky Devine, Mortgage Express CEO, another woman making her mark in the finance industry. Vicky's goal is to make Mortgage Express an attractive place to both begin or continue a career as mortgage broker, and with the number of women entering the industry, it's obvious she's doing just that.
"I'm so super proud of all of these women. All of my brokers and I just love working with them. What I love is the interaction between team members, internal chats, helping each other and really caring about each other."
Taken from Harcourts Brokering Deals Between People and Careers article. Read the full article right here.
---
Disclaimer:
While all care has been taken in the preparation of this publication, no warranty is given as to the accuracy of the information and no responsibility is taken by Finservice Pty Ltd (Mortgage Express) for any errors or omissions. This publication does not constitute personalised financial advice. It may not be relevant to individual circumstances. Nothing in this publication is, or should be taken as, an offer, invitation, or recommendation to buy, sell, or retain any investment in or make any deposit with any person. You should seek professional advice before taking any action in relation to the matters dealt within this publication. A Disclosure Statement is available on request and free of charge.
Finservice Pty Ltd (Mortgage Express) is authorised as a corporate credit representative (Corporate Credit Representative Number 397386) to engage in credit activities on behalf of BLSSA Pty Ltd (Australian Credit Licence number 391237) ACN 123 600 000 | Full member of MFAA | Member of Australian Financial Complaints Authority (AFCA) | Member of Choice Aggregation Services.