Foreign Exchange Support

OFX has waived the transfer fee for transactions over $250 AUD, for our clients.
To assist our clients who are moving funds internationally, we have partnered with OFX, a market leader in foreign exchange.

OFX is a foreign exchange company with offices across the globe. A well-known and highly respected company, it offers better exchange rates than commercial banks, lower transfer fees, and a convenient online system that lets you compare rates and use hedging tools to lock in good rates in advance.
All Mortgage Express or Harcourts clients are entitled to Fee Free transactions*.
Features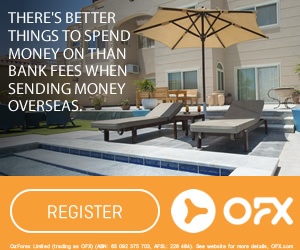 Zero transaction fees (*for payments above $250 AUD)
Extremely competitive foreign exchange rates across 55 currencies
Online & phone access 24/7
Complete exchange rate transparency
Risk management tools through Limit Orders and Forward Contracts
Exchange rate alerts via email
Access to highly regarded daily and weekly "Market Commentary"
How it works?
1. Register
Click to Register free here and OFX will call you to walk you through your first transfer.
2. Lock-in the exchange rate
Once your account has been activated, you simply log in to get your quote, set up the recipient details and lock-in the rate.
3. Send OFX your funds and we forward on the currency to recipient
Once OFX have confirmed the deal, you will need to transfer the funds to them through their local payment options e.g. BPAY (so no fees).
If you are making international payments why not take advantage of the free, no obligation registration process and see how much you can save?

Remember to mention Harcourts or Mortgage Express during registration to receive FEE FREE TRANSFERS above $250 AUD.