Auctions have long-been a popular way to buy and sell property in Australia, offering potential buyers the chance to secure their dream home or investment property through a competitive bidding process. To help you make an informed decision about your next property purchase and so you feel confident about bidding at auction, read on to get a comprehensive guide to property auctions and deposit payments in Australia.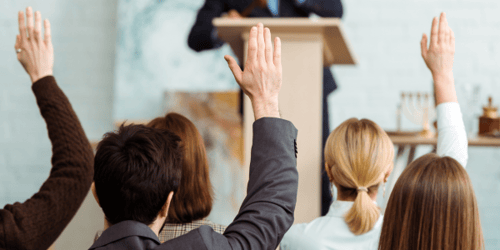 Understanding the property auction process
Navigating the auction process can sometimes feel intimidating, especially for first home buyers. Because of the competitive nature of auctions and the requirement to pay a deposit and sign the contract after the winning bid, it's important that potential buyers are well-prepared ahead of the auction.
The auction process typically involves the following steps:
Pre-auction preparation: Before bidding at an auction, thoroughly research the property by attending the open home, having an expert inspect the property, and conducting thorough due diligence. It's also a requirement to have your finances in order, as you'll need to act quickly if you win the bid.
Bidding: On auction day, registered bidders gather to compete for the properties. An auctioneer leads the event, calling out the current bid price until the highest bid is reached.
Reserve price: Each property has a reserve price, which is the minimum price the seller is willing to accept. If bidding doesn't reach this price, the property may be passed in and negotiations with the highest bidder may follow.
Winning bid: The highest bidder wins the property once the reserve price is met or exceeded, and the bidder is then legally obligated to purchase the property.
Deposit payment: Once the bidding concludes, the winning bidder is required to pay a deposit on the spot. This deposit is a percentage of the final sale price – usually 10 per cent - and serves as a show of commitment to the purchase.
Contract signing: The winning bidder signs the sales contract immediately after paying the deposit, and they are then legally bound to the purchase. It's important to note that auctions are unconditional sales, so it's vital you conduct all of your pre-purchase inspections, due diligence and finance pre-approval beforehand.
Settlement: The settlement period begins, during which the remaining balance is paid, and ownership of the property is transferred.
Paying the deposit after winning the bid
If your bid is the winning bid at a property auction in Australia, you're required to pay a deposit on the spot. The deposit amount is typically around 10% of the final sale price, and payment can be made through various means, including:
Personal check: If using a personal check, make sure you have the funds available and be prepared to part with them immediately.
Bank cheque: A bank cheque is a secure form of payment that guarantees the availability of funds. It's a preferred method for larger transactions.
Electronic Funds Transfer (EFT): Some auction houses may allow you to transfer the deposit electronically. Make sure you've coordinated with your bank to ensure a smooth transfer.
Credit card: In some cases, credit card payments might be accepted for the deposit. However, this isn't as common due to potential processing fees and credit limits.
Preparing to bid at auction
Before bidding at an auction, ensure you have your paperwork in order. This includes:
Proof of Identity: Bring a valid form of identification, such as a driver's license or passport.
Pre-approved finance: If you're getting a mortgage, ensure you get a pre-approval from your lender. This will give you a clear idea of your budget and ensure you have the finance to pay for the property if you do win the auction.
Deposit funds: Make sure that the funds for your deposit are readily available in your chosen payment method.
Legal advice: It's best to have a solicitor or conveyancer review the sales contract before the auction.
While property auctions can be exciting and rewarding, offering the opportunity to get the home of your dreams at the price you're prepared to pay, understanding the auction process and deposit requirements is crucial to successfully navigating this competitive environment.
With thorough preparation and the right resources, you'll be well-equipped to make informed decisions and bid confidently at your next property auction. And if you need financial advice about getting pre-approved finance ahead of an auction, talk to the team of mortgage brokers at Mortgage Express.
---
While all care has been taken in the preparation of this publication, no warranty is given as to the accuracy of the information and no responsibility is taken by Finservice Pty Ltd (Mortgage Express) for any errors or omissions. This publication does not constitute personalised financial advice. It may not be relevant to individual circumstances. Nothing in this publication is, or should be taken as, an offer, invitation, or recommendation to buy, sell, or retain any investment in or make any deposit with any person. You should seek professional advice before taking any action in relation to the matters dealt within this publication. A Disclosure Statement is available on request and free of charge.
Finservice Pty Ltd (Mortgage Express) is authorised as a corporate credit representative (Corporate Credit Representative Number 397386) to engage in credit activities on behalf of BLSSA Pty Ltd (Australian Credit Licence number 391237) ACN 123 600 000 | Full member of MFAA | Member of Australian Financial Complaints Authority (AFCA) | Member of Choice Aggregation Services.