As one of the lesser-known forms of domestic abuse, economic abuse is no less diminishing. Abusers, who restrict, exploit or sabotage their partner's access to money and resources such as food, clothing, even a place to live, use economic abuse to limit freedom, strip away autonomy, and damage financial wellbeing. In this article, we'll look at some of the ways to identify economic abuse, and what to do about it.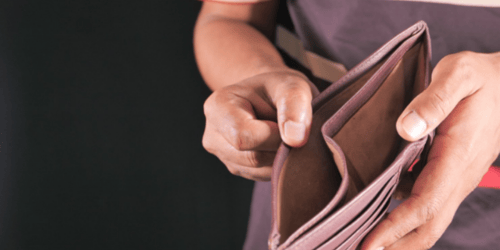 Long-term consequences for survivors
Survivors of economic abuse are left facing both immediate and long-term consequences. Not having the financial means to leave a relationship is cited as one of the most common reasons for staying with an abusive partner.
One survivor described her situation this way: "When we got married, I had some savings, a job and a car. Now that the marriage is over, I have nothing. How can I leave when I have nowhere to go and no way of supporting myself?"
Without economic security, it is incredibly hard to maintain any other form of safety and wellbeing. To reduce and prevent domestic and family violence, it's essential to address the impact of economic abuse as part of the broader issue.
What economic abuse looks like
There are three main categories of economic abuse:
Restriction: Where one partner restricts access to money and bank accounts or is unreasonably prescriptive in their instructions to their partner for the use of money.

Exploitation: Where one partner coerces the other into debt or uses their own income solely for themselves, forcing their partner to pay for necessities.

Sabotage: Where one partner interferes with their partner's ability to work, study, or forbids them to. It can also include damaging belongings.
Domestic economic abuse also often continues even after separation. This could be anything from evading Child Support, refusing to sign a discharge form on a mortgage, fraudulently taking out debt in an ex-partner's name, or creating costs through vexatious court action.
Signs to look out for if you think is experiencing economic abuse (not exhaustive or conclusive) include:
They may never seem to have enough money.

They appear anxious about spending anything.

They report having conflict with their partner about money.

They don't know anything about their financial situation.

They seem fearful of their partner.

They've left their paid employment, and this seems out of character.

They're concerned about the impact of their partner's behaviour on their job.
While none of these signs is 'evidence' that someone is experiencing domestic economic abuse, combined, all of these behaviours could be cause for concern.
A pattern of abusive behaviour
At the heart of most domestic and family violence is coercive control which is a pattern of behaviour to control and dominate another person - usually an intimate partner - causing them to live in fear or be made to do things against their will.
Economic abuse is a key tactic of coercive control. It can happen to anyone and be perpetrated by anyone, regardless of gender, sexuality, culture, education or income level. Women experience domestic economic abuse at higher rates than men, and women with a disability are even more disproportionately impacted.
Some of the ways abusers might control a family member's finances, stop them from earning an income, or limiting access to money include:
Being in charge of all the household income and paying the other person an allowance.

Controlling how all of the household income is spent.

Forcing a family member to claim social security benefits like Centrelink.

Making a family member be the guarantor on a loan or taking out a loan in their name.

Making a family member take out a second credit card.

Forcing a family member to work in a family business without being paid.

Filing fraudulent insurance claims.

Forging a family member's signature on financial documents.

Taking money out of a family member's pension.

Selling a family member's possessions without permission.

Misusing an Enduring Power of Attorney.

Forcing a family member to change their Will.

Stopping a family member from getting a job or going to work.

Stopping a family member from studying.

Stalking or harassing a family member's colleagues.

Not giving a family member access to bank accounts.

Denying a family member access to money so they can't afford basic expenses like food or medicine.

Destroying, damaging or stealing property.

Racking up debt on shared accounts or joint credit cards.

Withholding financial support like child support payments.

Refusing to work or contribute anything to the household income.

Gambling away a family member's money or shared money.
Help for those who need it
The fact is anyone can experience financial abuse. If you are concerned about someone you know, or your own situation, there are resources and services that may be able to help.
Visit: https://www.economicsafety.org.au/
Call: The National Debt Helpline on 1800 007 007 or 1800RESPECT (1800 737 732)
Connect with Community Legal Centres Australia to find legal help in your area.
Australia's inaugural Economic Abuse Awareness Day takes place 26 November 2021. To learn more visit: https://economicabuseawareness.org.au/
Credit:
Rebecca Glenn
CWES Founder and 2019 Churchill Fellow
---
While all care has been taken in the preparation of this publication, no warranty is given as to the accuracy of the information and no responsibility is taken by Finservice Pty Ltd (Mortgage Express) for any errors or omissions. This publication does not constitute personalised financial advice. It may not be relevant to individual circumstances. Nothing in this publication is, or should be taken as, an offer, invitation, or recommendation to buy, sell, or retain any investment in or make any deposit with any person. You should seek professional advice before taking any action in relation to the matters dealt within this publication. A Disclosure Statement is available on request and free of charge.
Finservice Pty Ltd (Mortgage Express) is authorised as a corporate credit representative (Corporate Credit Representative Number 397386) to engage in credit activities on behalf of BLSSA Pty Ltd (Australian Credit Licence number 391237) ACN 123 600 000 | Full member of MFAA | Member of Australian Financial Complaints Authority (AFCA) | Member of Choice Aggregation Services.