Good nutrition has never been more important than right now. Maintaining a healthy diet is a vital part of supporting a strong immune system, one that is able to fight off infections. Understandably, in the face of a crisis, many of us reach for the junk food rather than a healthy snack. To help you stay focused on making health a priority in these challenging times, here are three steps you can take to keep good nutrition top of mind.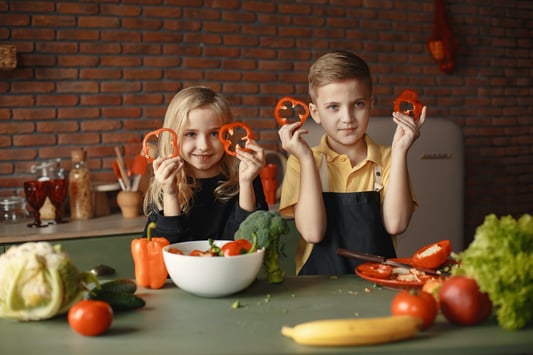 1. Plan ahead
Before you head to the supermarket, plan your meals for the week and write a shopping list. Planning your meals beforehand helps you stay focused on good nutrition, cuts out unnecessary trips to the supermarket, and even helps you save money by avoiding impulse buys and unplanned purchases.

Decide which recipes you'll make for the week and try to plan your meals around foods that are on sale or in season. Remember also to focus on good nutrition: include whole grains, fruit and vegetables and a smaller portion of protein with every meal.

Check your freezer and pantry before writing your shopping list and consider making extra portions for lunchtime leftovers. Encourage your family to share their favourite meals and help with menu planning too.
2. Get the whole family involved
Meal planning and meal preparation needn't be a chore. If you have children at home, why not include them? At the same time, you'll be teaching them lessons in:

• Reading or writing: Ask children to read a recipe and then write a shopping list for what ingredients they need to buy.

• Maths: Get children involved in measuring out ingredients for recipes using measuring cups and spoons.

• Science: Simple cooking like baking bread or frying an egg can easily turn into a science lesson as kids learn the why and how things happen when ingredients are mixed together or heated up.
3. Make eating together at home a positive experience
Did you know, there are proven health and mental benefits to eating a meal with others? Make an effort to eat at least one meal a day together as a family or household. Here are some tips to help get you started:

• Schedule a time to eat together: Whether it's breakfast, lunch or dinner, choose a meal time that gives you the most time to talk and connect with each other.

• Get everyone involved in planning and preparing meals: Whether it's helping to set the table, tear up the lettuce for a salad, or sprinkling cheese on a pizza, eating together is more likely to happen if everyone is involved in preparing the meal.

• Focus on enjoying each other's company and keep meal time conversations positive.

Remember to look after yourselves in these uncertain times and to stay safe. There's no better time than now to connect with the ones we love!
---
Disclaimer:
While all care has been taken in the preparation of this publication, no warranty is given as to the accuracy of the information and no responsibility is taken by Finservice Pty Ltd (Mortgage Express) for any errors or omissions. This publication does not constitute personalised financial advice. It may not be relevant to individual circumstances. Nothing in this publication is, or should be taken as, an offer, invitation, or recommendation to buy, sell, or retain any investment in or make any deposit with any person. You should seek professional advice before taking any action in relation to the matters dealt within this publication. A Disclosure Statement is available on request and free of charge.
Finservice Pty Ltd (Mortgage Express) is authorised as a corporate credit representative (Corporate Credit Representative Number 397386) to engage in credit activities on behalf of BLSSA Pty Ltd (Australian Credit Licence number 391237) ACN 123 600 000 | Full member of MFAA | Member of Australian Financial Complaints Authority (AFCA) | Member of Choice Aggregation Services.