New research has revealed that nearly a third of Australian households are already under mortgage stress, a figure that looks set to continue rising if past figures are anything to go by. Read on to find out how to prevent yourself from falling into mortgage stress, and what to do if you're already in it.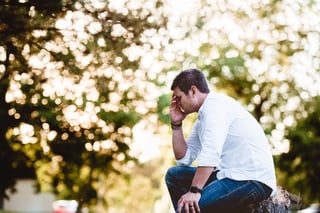 Economically significant
Following research undertaken in December 2017, research, analysis and consulting firm Digital Finance Analytics has reported that over 921,000 households in Australia are currently under "mortgage stress", while a further 24,000 households are under "severe mortgage stress".
Not surprisingly, New South Wales has the highest number of households in mortgage stress the figures revealed, climbing from 251,576 households in November 2017 to 258,572 in December 2017.
Given that household debt continues to rise to new record levels and that the latest household debt-to-income ratio is now at 199.7, these figures are economically significant according to Digital Finance Analytics principal, Martin North.
"Mortgage lending is still growing at three times income. This is not sustainable," he said.
Managing mortgage stress
A household is considered under mortgage stress when its net income is unable to cover ongoing expenses. Homeowners paying over 30 per cent of their income towards home loan repayments are considered to be in mortgage stress.
This issue is compounded when funds are low or homeowners live beyond their means, interest rates rise, or homeowners face unemployment, unexpected medical conditions or a sluggish housing market.
It's vital you recognise the signs of mortgage stress and that you know what to do if you're already in it.
Setting aside an emergency fund that would cover at least six months of living expenses is one way to ensure you're prepared for anything unexpected that may come up, like a medical emergency or job loss. Living within your means and buying a house you can realistically afford, are further ways to avoid getting into mortgage stress.
If you are concerned about your financial situation, take action right away. Contact your lender to find out about an interest-only payment option to help minimise your stress or to ask for advice. You may be able to take a short repayment holiday or your lender may be able to reconfigure your repayments to allow you time to get back onto your feet.
Get in touch with a Mortgage Express broker for further advice on how to deal with mortgage stress.
References:
https://www.brokernews.com.au/news/breaking-news/nearly-a-third-of-australian-households-suffer-mortgage-stress--study-245277.aspx
https://www.yourmortgage.com.au/mortgage-news/australian-households-reeling-from-mortgage-stress/245357/
https://www.finder.com.au/mortgage-stress
---
Disclaimer:
While all care has been taken in the preparation of this publication, no warranty is given as to the accuracy of the information and no responsibility is taken by Finservice Pty Ltd (Mortgage Express) for any errors or omissions. This publication does not constitute personalised financial advice. It may not be relevant to individual circumstances. Nothing in this publication is, or should be taken as, an offer, invitation, or recommendation to buy, sell, or retain any investment in or make any deposit with any person. You should seek professional advice before taking any action in relation to the matters dealt within this publication. A Disclosure Statement is available on request and free of charge.
Finservice Pty Ltd (Mortgage Express) is authorised as a corporate credit representative (Corporate Credit Representative Number 397386) to engage in credit activities on behalf of BLSSA Pty Ltd (Australian Credit Licence number 391237) ACN 123 600 000 | Full member of MFAA | Member of Credit Ombudsman Services Ltd (COSL) | Member of Choice Aggregation Services.