As Australia moves into a new way of life post-pandemic and lockdowns become a thing of the past, there's one area of our lives that continues to be impacted by COVID-19: Housing. Post-pandemic, house prices have continued to rise across Australia, making it harder for first home buyers to enter the market. And rent costs haven't escaped either, as both houses and units in capital cities and regional areas experience the highest growth rate in rent costs since 2007.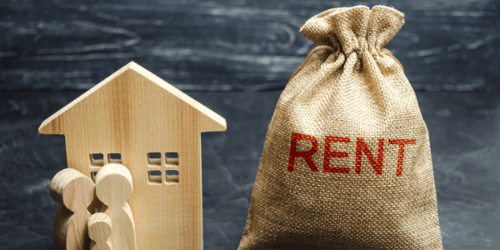 A dramatic rise in rental prices
As Australians continue to work from home, high demand for houses with home office space is just one of the drivers fueling the dramatic rise in rental prices. Continued house price increases forcing first home buyers out of the market, along with a shortage of rental supply are some of the other factors that have led to an 8.9 per cent year-on-year increase in rental rates across Australia.
"Another factor that may be contributing to rental demand is that more renters are working from home, which could be driving a trend towards smaller rental households as tenants look to maximise their space and working environment during COVID," said CoreLogic's Research Director Tim Lawless.
"For more than 18 months we've seen demand for detached housing continue unabated as more renters work from home, either on a permanent or now hybrid working arrangement, which drives demand for more spacious living conditions," he said.
"In addition to this trend, investors, while still active in the market, have been dwarfed by an over representation of owner occupiers entering the market, upgrading or buying holiday homes that aren't being added to the rental pool. This is also being played out in the rapid growth in regional rental markets."
Areas experiencing the strongest growth
Unsurprisingly, given the levels of interstate migration since the pandemic began, the strongest rent growth is in Brisbane, where rents have increased by a whopping 12.9 per cent year on year.
It's closely followed by Sydney, then Perth, with Melbourne pegged as the most affordable city in the country in which to rent when factoring in household income. The cheapest rentals can be found in Adelaide, while Canberra remains the nation's most expensive city in which to rent.
"Relative to household incomes, based on data to March, Melbourne was actually the most affordable capital city to rent, with households, on average, dedicating 26 per cent of their gross annual household income to rent a dwelling compared with the national average of 28.7 per cent," Mr. Lawless said.
Getting out of the rental cycle
For those first home buyers ready to break the rental cycle and step onto the property ladder, it's helpful to know there are lenders in Australia who will lend based on a strong rental history rather than just genuine savings.
While you will still need to save a deposit, instead of having the full five per cent genuine savings for a three-month period, these lenders will take into account your regular rental payments as a reflection of your ability to manage mortgage repayments.
So, if you haven't quite managed to save up your five per cent genuine savings, your rental history may be considered as part of your genuine savings. Get in touch today to speak to a Mortgage Express broker in your area, and find out how you could use your rental history to get a mortgage to buy a first home.
---
While all care has been taken in the preparation of this publication, no warranty is given as to the accuracy of the information and no responsibility is taken by Finservice Pty Ltd (Mortgage Express) for any errors or omissions. This publication does not constitute personalised financial advice. It may not be relevant to individual circumstances. Nothing in this publication is, or should be taken as, an offer, invitation, or recommendation to buy, sell, or retain any investment in or make any deposit with any person. You should seek professional advice before taking any action in relation to the matters dealt within this publication. A Disclosure Statement is available on request and free of charge.
Finservice Pty Ltd (Mortgage Express) is authorised as a corporate credit representative (Corporate Credit Representative Number 397386) to engage in credit activities on behalf of BLSSA Pty Ltd (Australian Credit Licence number 391237) ACN 123 600 000 | Full member of MFAA | Member of Australian Financial Complaints Authority (AFCA) | Member of Choice Aggregation Services.