Australia is no stranger to bushfires, and with a hot, dry summer predicted this year, it's crucial that Australians are well-prepared ahead of bushfire season. Not only does that mean safeguarding your home and belongings, but also taking the necessary steps to protect you and your family and get prepared. In this guide, you'll find all you need to know to ensure you're ready for the challenges that bushfire season could bring.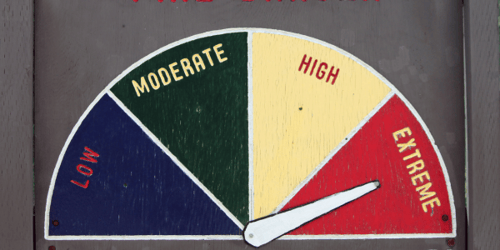 1. Know the signs
Understanding the early warning signs of a potential bushfire - knowing what to look out for - can make all the difference in ensuring you stay safe. The following signs could indicate a higher risk of bushfires:
Rising temperatures and dry conditions: Hotter, drier weather increases the risk of bushfires. Pay attention to weather forecasts and heatwave warnings in your area.
Increased Fire Danger Ratings: Check the Fire Danger Ratings issued by authorities as these ratings indicate the level of bushfire risk in your area.
Smoke and haze in the air can be early signs of a nearby fire. Stay updated with local news sources for information on fire incidents.
Strong, shifting winds can carry embers and flames quickly, making fires spread rapidly. Be aware of changes in wind patterns.
2. Be prepared
Having an emergency or evacuation kit prepared well in advance is essential. This kit should contain everything you and your family may need in the event of a bushfire evacuation. Here's what to include:
Essential documents: Passports, driver's licenses, insurance policies, and important legal documents should be kept in a waterproof container.
Basic first aid supplies: Include bandages, antiseptics, pain relievers, and any necessary prescription medications.
Non-perishable food and water: Enough for at least three days, including canned goods, energy bars, and a supply of bottled water.
Clothing and personal items: Pack extra clothes for each family member, sturdy shoes, toiletries, and any special items needed for infants, elderly family members, or pets.
Battery-powered or hand-crank radio or charged battery pack for your phone: This will allow you to stay updated with emergency broadcasts even if the power is out.
3. Reduce your risk
Taking these proactive measures to protect your home is crucial in bushfire-prone areas:
Trim back any overhanging branches and remove dead vegetation around your property to help reduce the likelihood of fires spreading.
Clean out gutters and clear your roof of any leaves, twigs, bark and other debris.
Use fire-resistant plants and materials in your landscaping to create a buffer zone around your home.
Mow your lawn regularly and keep your garden clear of flammable material such as long grass, dead leaves and branches.
Seal off external gaps and vents to prevent embers from entering your home.
Install fire shutters or screens to provide an extra layer of protection for windows and openings.
Check and maintain firefighting pumps, generators and water systems.
Remove any flammable items, such as woodpiles, mulch, hanging baskets and outdoor furniture, away from your home.
4. Plan ahead
Ensuring the safety of you and your family during a bushfire is of utmost importance. Here's what you can do to help stay safe:
Have a clear evacuation plan and ensure your family know how to get out of the house and where to meet in an emergency situation.
Tune into official warnings and updates from local authorities on your local radio or TV station, social media groups, and local authority websites.
Pack the essentials. Get your emergency kit ready and make sure it's accessible by everyone in your family.
Decide on a communication plan with family members in case you get separated during an evacuation.
Stay calm and follow instructions. In a crisis situation, it's important to remain calm and follow the directions of emergency services.
5. Be vigilant
Forecasts of above-average temperatures, decreased rainfall, high fuel loads and changing weather patterns, according to the Australasian Fire Authorities Council (Afac), mean all Australians need to be on high alert for bushfires.
Even if you're not in a bushfire area, fire embers, toxic fumes and heavy smoke from bushfires can still impact your homes and your health. By being prepared, vigilant, and proactive, you can significantly increase your chances of staying safe during the bushfire season.
Here are some resources you can download to use to prepare your bushfire emergency and evacuation plan:
Western Australia bushfire preparation checklist
Remember, your safety and the safety of your loved ones should always be your top priority. Stay informed, stay vigilant, and stay safe.
---
While all care has been taken in the preparation of this publication, no warranty is given as to the accuracy of the information and no responsibility is taken by Finservice Pty Ltd (Mortgage Express) for any errors or omissions. This publication does not constitute personalised financial advice. It may not be relevant to individual circumstances. Nothing in this publication is, or should be taken as, an offer, invitation, or recommendation to buy, sell, or retain any investment in or make any deposit with any person. You should seek professional advice before taking any action in relation to the matters dealt within this publication. A Disclosure Statement is available on request and free of charge.
Finservice Pty Ltd (Mortgage Express) is authorised as a corporate credit representative (Corporate Credit Representative Number 397386) to engage in credit activities on behalf of BLSSA Pty Ltd (Australian Credit Licence number 391237) ACN 123 600 000 | Full member of MFAA | Member of Australian Financial Complaints Authority (AFCA) | Member of Choice Aggregation Services.