A combination of record low interest rates, Government incentives, and a general fear of missing out (FOMO) is driving continued interest in the Australian property market, this despite much of the country still being under lockdown restrictions. The real estate industry has been quick to adapt its processes in order to meet buyer demand during lockdown, with the overriding message being quite clear that it is still possible buy property at this time. Here's more on this topic from two Harcourts' real estate professionals, as well as input on financing in lockdown from two Mortgage Express brokers.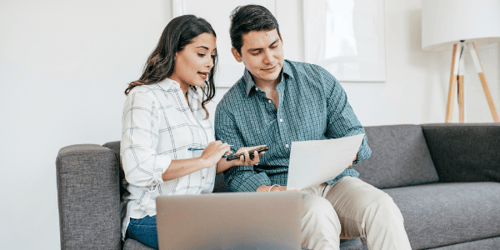 Virtual viewings of property
"Virtual open for inspections and virtual private viewings have been going on since last year. The industry has adapted extremely quickly, and companies that adapted to the 'new norm' in viewing properties, such as Harcourts Judd White, benefitted from moving so quickly. Over the last 3 months, it has become NORMAL now and it's amazing to see how buyers have adapted to the process, which is done via Zoom or Facetime. Buyers communicate with the agent to receive the Zoom link and it is pretty much done like a live open for inspection with set times. Questions are asked via chat or live when the streaming is going."

Dexter Prack
CEO | Chief Auctioneer
Harcourts Judd White

For more tips on buying a property in lockdown, watch this video from Tim Menz, Rural & Lifestyle Sales / Licensed Estate Agent, Harcourts Ballarat.

Online meetings with broker
"From a lending point of view, it is actually quite easy. The client does not have to leave their house. The initial meeting is done via Zoom, and most of the time it takes between 30 to 45-mins where I establish the wants and needs of the kind of loan we will be moving forward with."
"Clients fill out a fact find, send me supporting documents via email and even the bank statements only take 15 seconds to send to me as I use a service called bankstatements.com.au which is an encrypted service that sends the last 6 months bank statements of all the accounts the clients may have, even mortgage and credit card statements."
"Loan presentation meeting is also done via Zoom where I share my screen and show the clients the research I have done for them and the loans that match their needs and wants. This is also the time where their questions are answered. After this meeting clients usually give me the go ahead."
"From there, majority of lenders have now made it a digital experience from start to finish. Some lenders even let you ID yourself via an app so no leaving the house to go to the post office and doing 100 points ID. Loan documents, loan offer and mortgages are now digital with most lenders, and I am personally doing loans for clients all around Australia which was not possible 2 years ago."

Ismar Muratovic
Finance Broker
Mortgage Express

Virtual bidding at auctions

"Since last year, we have conducted around 200 online auctions with a clearance rate of 190, so extremely high. We use the ANYWHERE AUCTIONS platform. Buyers need to register online, provide proof of identity, and secure a $2,000 deposit on the site. Bidding is done through the platform while the buyers watch the livestream online. Both parties then receive the COS via DocuSign for execution. The deposit is paid via a platform called Auction Pay through Macq Bank, which is like a direct debit process. This process has been well received and buyers are now very comfortable with the virtual bidding. In our opinion, there is NO DIFFERENCE to being onsite apart from not being able to see who else is bidding against you."

Dexter Prack
CEO | Chief Auctioneer
Harcourts Judd White

Getting finances approved and settlement

"Covid has led to some positive outcomes, in particular, to the lending market as the requirements of face to face appointments have eased, with many lenders now allowing identification and appointments to be undertaken via Zoom or other online platforms. This has allowed brokers to assist people throughout Australia with appointments being conducted in the comfort of their own home and at a time that suits them. Some lenders may have stricter requirements and the borrower can be identified through Australia post or other apps such as ID You and Zip ID."
"The majority of lenders now issue documents electronically which saves a considerable amount of time and settlements can processed much quicker. Once documents are returned electronically, depending on the outgoing lender, settlements can be booked within 7 days."
"I recently had a client who purchased a property at auction with 21-day finance. The lender I chose approved the loan within 24 hours of submission, loan documents issued next day. The client signed them within 24 hours and the lender was ready to book settlement!"

Tracey Pye
Mortgage Broker
Mortgage Express

Real estate agents help with market research

"While most buyers pretty much do their own market research using online portals, where the power of an agent can be harnessed is more in the fact that we have more informative knowledge and a clearer picture into the VALUE of the property and the WHY it may have achieved the price. The agent certainly has a more in-depth knowledge of properties rather than having to rely on what is available to the marketplace online."

Dexter Prack
CEO | Chief Auctioneer
Harcourts Judd White

Getting advice that's right for you

While lockdown restrictions may differ from State to State (and you can find a more comprehensive breakdown of each State's restrictions right here), it's heartening to know that buying and selling properties can continue, albeit with a few changes to how things are done.
If you're looking for financial advice with a view to buying a first home, investment property, downsizing or upsizing, or would like to discuss refinancing your home loan, get in touch with the team at Mortgage Express. We have brokers located throughout Australia and can connect you with one of our team in your region.

---
While all care has been taken in the preparation of this publication, no warranty is given as to the accuracy of the information and no responsibility is taken by Finservice Pty Ltd (Mortgage Express) for any errors or omissions. This publication does not constitute personalised financial advice. It may not be relevant to individual circumstances. Nothing in this publication is, or should be taken as, an offer, invitation, or recommendation to buy, sell, or retain any investment in or make any deposit with any person. You should seek professional advice before taking any action in relation to the matters dealt within this publication. A Disclosure Statement is available on request and free of charge.
Finservice Pty Ltd (Mortgage Express) is authorised as a corporate credit representative (Corporate Credit Representative Number 397386) to engage in credit activities on behalf of BLSSA Pty Ltd (Australian Credit Licence number 391237) ACN 123 600 000 | Full member of MFAA | Member of Australian Financial Complaints Authority (AFCA) | Member of Choice Aggregation Services.