As life in Australia slowly returns to normal – or at least to the "new normal" – having conquered the first wave of COVID-19, there does appear to be some light at the end of the tunnel. Businesses are opening up again and our economy is slowly reviving. While we have a long way to go on our road to recovery, in a post Coronavirus world there are a few things we may need to do differently. Here are 5 tips for the way ahead that will see you not only survive but thrive.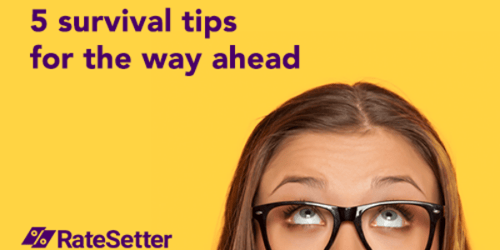 1. Review your expenses
With over 27% of Australians now out of work or underemployed* there has never been a more poignant time to put your financial situation under the microscope. Your mortgage broker may have access to a bank statements service which can categorise your spending to help you spot trends, making it clear where you may be able to make savings. It's a good idea to start looking at your subscriptions, as these are usually simple to cancel. You could save hundreds of dollars per annum by cancelling your gym membership, streaming services such as Netflix or Spotify, magazine or newspaper subscriptions and any other monthly subscription you may have.
While the decision on whether or not to extend credit will remain with the lender, Government expects lenders will look ahead and take into account the current economic uncertainty when determining lender ability. Government will also encourage lenders to provide facilities to SMEs that only have to be drawn if needed, which means interest will only be charged on the amount drawn down.
2. Consolidate your credit cards
Credit card debt in Australia is approaching $30bn. Over 70% of us have an active card in our wallets and over 20% of 35-54 year old's have 3 or more active cards. With the average credit card rate approaching 20% p.a.**, now might be a good time to look at using a personal loan to consolidate your credit card balances into a comfortable monthly payment at a lower rate. This option could save you thousands of dollars with the added convenience of a fixed end date to clear your unsecured debts.
3. Replace your aging vehicle or refinance your existing car loan
With a slowdown in vehicle sales and end of financial year just around the corner, it may be an excellent time to look at replacing your vehicle with a brand new one. Dealers may be looking to move on stock and you may be able to take advantage of the EOFY discounts. You could secure yourself a great deal, not only on the price of the car but also by securing the excellent financing options that are currently available. Interest rates across Australia have never been lower, so it's worthwhile looking into refinancing your car loan to a lower rate.
4. Upgrade your property
With more of us spending time at home, whether it's for work or home-schooling the kids, it's not surprising so many of us are thinking about renovating or adding an extension. Take the opportunity to speak to your Mortgage Express broker about a personal loan to give you that extra space or the lifestyle improvement you may be craving. You may be able to tap into your existing property equity and refinance your mortgage to cover any renovations you want to undertake.
5. Taking advantage of the property market
Borrowing has never been cheaper and with house prices set to soften across most states, it's the perfect time to look at that investment property you've always longed for or even that first home purchase. There are plenty of initiatives the government is releasing and also opportunities that our brokers may be able help you with.
With new beginnings on the horizon, we hope the above tips will help you weather the financial storm and come out stronger. Mortgage Express and our partners are committed to kick-starting our economy and helping Australians do better financially. Talk to our team if you have questions about any of the above options. Our team can help you get your financial health back on track.
*http://www.roymorgan.com/findings/8363-roy-morgan-unemployment-and-under-employment-march-2020-202004080900
** https://www.rba.gov.au/statistics/tables/index.html - F8 Personal Lending Rates
The information contained in this article is accurate only at the date of publication. This article should not be taken as financial product advice and has been prepared as general information only without consideration for your particular objectives, financial circumstances or needs. You should speak to a broker or financial adviser before making any decisions regarding a financial product. Credit facilitated by RateSetter Australia RE Limited (ACL 449176) is subject to credit criteria, fees and charges.
Reference: Ratesetter
---
Disclaimer:
While all care has been taken in the preparation of this publication, no warranty is given as to the accuracy of the information and no responsibility is taken by Finservice Pty Ltd (Mortgage Express) for any errors or omissions. This publication does not constitute personalised financial advice. It may not be relevant to individual circumstances. Nothing in this publication is, or should be taken as, an offer, invitation, or recommendation to buy, sell, or retain any investment in or make any deposit with any person. You should seek professional advice before taking any action in relation to the matters dealt within this publication. A Disclosure Statement is available on request and free of charge.
Finservice Pty Ltd (Mortgage Express) is authorised as a corporate credit representative (Corporate Credit Representative Number 397386) to engage in credit activities on behalf of BLSSA Pty Ltd (Australian Credit Licence number 391237) ACN 123 600 000 | Full member of MFAA | Member of Australian Financial Complaints Authority (AFCA) | Member of Choice Aggregation Services.