For many of us, 2020 is the year we'd rather forget! But with the festive season fast approaching, it seems fitting to celebrate the end of a particularly tough year in a meaningful way. If the thought of dusting off the decorations or hosting a lavish feast is something you'd rather not think too much about, take heart and check out these 3 simple ways to make this festive season more meaningful.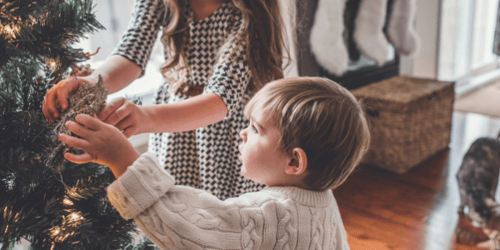 1. Start a family tradition
Starting a new family tradition needn't be complicated but it's an excellent way to add more meaning to the festive season.
Traditions are those repeated rituals that provide a sense of identity and help tell the story of your family. By recreating the same experience around a specific event – like the festive season – you build shared memories, so that each time you do it you're reminded of previous happy times doing the same thing.
Involve your family by talking about what makes the holiday season special to them, recalling past holidays and picking out important memories that made that time so memorable.
There are so many simple traditions you could include. Here are just a few to help you get started.
Bake cookies and share them with neighbours, friends and family.

Create a decoration each year to hang on the tree.

Decorate a Christmas tree together.

Make a family gingerbread house.

Drive around your town at night to see the Christmas lights.

Read a special story together.

Choose a community project to support.

Watch a Christmas movie together.
2. Learn about your family's culture
Hand in hand with creating family traditions, comes learning about your cultural heritage. Because, ultimately, where you come from will have an influence over how you celebrate this time of year.
Start by getting grandparents, great-grandparents, aunts, uncles and other family members to share where they grew up, the types of food they ate, the traditions they practiced at this time of year, and the holidays they celebrated. Then incorporate some of these traditions into your own celebrations.
Celebrating your heritage by incorporating your traditions into your family is especially important if you come from another part of the world and you're away from home, as it can help you feel closer to home at this time of year.
3. Choose gifts with purpose
It's easy to get sucked into the commercialism that surrounds the festive season. We're constantly bombarded with information about the latest gadgets, toys and other must-have items. It's not surprising Christmas can start to feel like one big shopping trip!
Why not support a small business or your local café this year – particularly those that may have lost business over lockdown. Or consider giving either your time or money to a community project or your local homeless shelter. Or buy gifts from non-profit organisations that empower local artisans and offer hope to third world countries.
Another idea is to give a creative gift from the heart – something homemade. Choose something simple that the whole family can get involved in creating. Find ways to show kindness without having to buy expensive gifts.
A fresh start
COVID-19 has changed the way we do so many things, but not all of the changes have been bad. Some of the positive changes include our use of technology and the ability to work and learn from home, a bigger focus on family and friends, and a growing desire to add more meaning to the everyday things we do.
How are you bringing more meaning to this festive season? Leave a comment on our Facebook page to share your tips.
We hope 2021 brings you everything you wish for.
---
Disclaimer:
While all care has been taken in the preparation of this publication, no warranty is given as to the accuracy of the information and no responsibility is taken by Finservice Pty Ltd (Mortgage Express) for any errors or omissions. This publication does not constitute personalised financial advice. It may not be relevant to individual circumstances. Nothing in this publication is, or should be taken as, an offer, invitation, or recommendation to buy, sell, or retain any investment in or make any deposit with any person. You should seek professional advice before taking any action in relation to the matters dealt within this publication. A Disclosure Statement is available on request and free of charge.
Finservice Pty Ltd (Mortgage Express) is authorised as a corporate credit representative (Corporate Credit Representative Number 397386) to engage in credit activities on behalf of BLSSA Pty Ltd (Australian Credit Licence number 391237) ACN 123 600 000 | Full member of MFAA | Member of Australian Financial Complaints Authority (AFCA) | Member of Choice Aggregation Services.