A growing number of Australians are expected to retire with a mortgage, research from a superannuation fund shows, while the "sandwich generation" grapple with a phenomenon known as "inter-generational dependency". What are some of the ways you can ensure you retire debt-free? Read on to find out.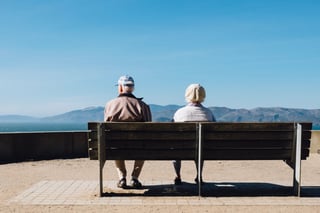 Retirement debt is climbing
Around 46 per cent of Australians expect to retire with debt, according to research undertaken by superannuation fund, REST Industry Super in April 2017.
REST's white paper entitled, "The Journey Begins" compared the attitudes, finances and expectations of older working Australians with those currently retired and the younger working generation. The research found that the "sandwich generation" were stuck managing a phenomenon described as "inter-generational dependency".
The "sandwich generation" are those in their 30s and 40s, often supporting adult children who cannot afford to buy a home and parents who do not have enough for a comfortable retirement, resulting in what's known as inter-generational dependency.
The consequences of this trend mean many first home buyers are entering the property market much later in life, often at the peak of the property boom, leaving them with a much shorter mortgage term and a higher chance of retiring with mortgage debt.
REST chief executive, Damian Hill said, "As the majority of assets for older working Australians are locked up in the family home, carrying mortgage debt into retirement can be a cause of financial stress for retirees."
"While any debt they have is usually offset by savings in superannuation and other investments, it's a good idea for people in this age bracket to try as much as possible to pay down this debt before retiring."

Saving for a more secure future
Your mortgage is the biggest debt you'll likely have, which means paying it off quickly could save you thousands of dollars in interest repayments. Here are a few simple tricks to paying down your mortgage quickly and easily, to get you one step closer to a debt-free retirement.
Round-up your mortgage: Even if there is very little money left in the budget to make a bigger payment into your mortgage, it's worthwhile rounding up your repayments. For example, rounding up your fortnightly mortgage repayments on a loan of $200,000 with 15 years left to run from $2,170 to $2,200 will save you $7,692 in interest on a rate of 5.5 per cent.

Set your repayments to fortnightly: While there are just 12 months in a year, there are in fact 26 fortnights in a year rather than 24. Which means, by paying fortnightly, you'll make an extra 2 repayments each year.

Offset account: Having a savings account that runs parallel to your mortgage lets you offset your savings against your mortgage and only pay interest on the balance. For example, with a mortgage of $100,000 and a savings account of $5,000, you'll only pay interest on the balance of $95,000.
Is it time to refinance?
With mortgage rates at an all-time low, this is an ideal time to get your mortgage repayments on track for a debt-free retirement. Talk to a Mortgage Express broker about a mortgage review or refinance to a better rate to help kick-start your savings goals.
References:
https://www.rest.com.au/thejourneybegins
http://www.financialobserver.com.au/articles/nearly-half-of-australians-retire-with-debt?A=WebApp&CCID=19099&Page=2&Items=2
https://theconversation.com/australians-are-working-longer-so-they-can-pay-off-their-mortgage-debt-79578
---
Disclaimer:
While all care has been taken in the preparation of this publication, no warranty is given as to the accuracy of the information and no responsibility is taken by Finservice Pty Ltd (Mortgage Express) for any errors or omissions. This publication does not constitute personalised financial advice. It may not be relevant to individual circumstances. Nothing in this publication is, or should be taken as, an offer, invitation, or recommendation to buy, sell, or retain any investment in or make any deposit with any person. You should seek professional advice before taking any action in relation to the matters dealt within this publication. A Disclosure Statement is available on request and free of charge.
Finservice Pty Ltd (Mortgage Express) is authorised as a corporate credit representative (Corporate Credit Representative Number 397386) to engage in credit activities on behalf of BLSSA Pty Ltd (Australian Credit Licence number 391237) ACN 123 600 000 | Full member of MFAA | Member of Credit Ombudsman Services Ltd (COSL) | Member of Choice Aggregation Services.