After another year of COVID-19, lockdowns, social distancing and mask wearing, you'd be forgiven for wanting to splash out this year to spoil the family with a Christmas to remember. But a big Christmas could mean spending more than your budget, or going into debt to pay for it all. Begin the new year without the dread of debt hanging over your head, with these top tips for saving money this Christmas.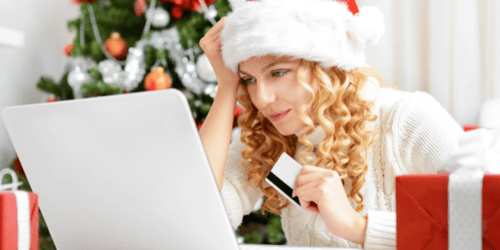 Set a limit and track your spending
Heading out to do your Christmas shopping without a pre-planned idea of how much you can spend – and some idea of what you want to spend it on - is asking for trouble! The key to avoiding debt and overspending during the festive season is to work out your Christmas budget, and then track your actual spending as you go.

So, start by writing down a list of the people you need to buy gifts for, along with a rough idea what you could buy them that would fit within your budget. As you spend, keep your receipts so you can add up what you've spent so far and work out how much you still have left. You may need to make some adjustments to your budget as you go, but working off your list will help you stay on track.
Shop smarter, not harder
Christmas can be an expensive time. What with gift giving, entertainment, holiday spending and more, it's easy to see why so many of us end up spending far more than we can afford. But if you really want to avoid overwhelming debt this year, then these few Christmas shopping tips may help you shop smarter and save more:
Cash in those loyalty points or redeem your online rewards to buy gifts.

Spend time rather than money. Why not choose to value the time you spend together over expensive gifts?

Shop early and shop online. Avoid last minute shopping trips as these often end up being under pressure, impulse purchases.

Look out for sales and clearances.

Spread out your spending over the course of a year, rather than trying to get it all done last minute.

And if you missed your chance to buy gifts during the year, look out for the January sales so you can start planning for next year.

Trim down the number of gifts you need to buy.

Consider only buying gifts for immediate family rather than friends and extended family members too.

Set a dollar value for each gift and then stick to it. Chat to your family so you're all on the same page about the amount you're going to spend.

Resist Christmas marketing – shopping online will help you avoid getting tempted in store.

Check your old gift cards for any dollar amounts leftover and use these up.

Don't get sidetracked and forget your budget and Christmas shopping list.

Choose group gifts instead of individual presents. Buying one larger gift for each family group rather than each member could save you money.

Regift, re-use, recycle gifts you've been given in the past. Or buy gifts from your local charity shop and support a good cause at the same time.

DIY Christmas gifts are true gifts from the heart so why not make something, bake something, or create something special.
However you choose to shop this festive season, do so by budgeting, spending and giving with intention. Good tidings for Christmas and a Happy New Year from the team at Mortgage Express.
---
While all care has been taken in the preparation of this publication, no warranty is given as to the accuracy of the information and no responsibility is taken by Finservice Pty Ltd (Mortgage Express) for any errors or omissions. This publication does not constitute personalised financial advice. It may not be relevant to individual circumstances. Nothing in this publication is, or should be taken as, an offer, invitation, or recommendation to buy, sell, or retain any investment in or make any deposit with any person. You should seek professional advice before taking any action in relation to the matters dealt within this publication. A Disclosure Statement is available on request and free of charge.
Finservice Pty Ltd (Mortgage Express) is authorised as a corporate credit representative (Corporate Credit Representative Number 397386) to engage in credit activities on behalf of BLSSA Pty Ltd (Australian Credit Licence number 391237) ACN 123 600 000 | Full member of MFAA | Member of Australian Financial Complaints Authority (AFCA) | Member of Choice Aggregation Services.