As the golden years approach, many Aussies find themselves contemplating a significant life change: downsizing the family home to better align with retirement goals. Whether it's driven by financial considerations, lifestyle preferences, or simply a desire for a more manageable space, downsizing can be a strategic move that enhances retirement. Before deciding to downsize, however, it's important to understand the pros and cons, why downsizing might make sense, and what factors to consider as you embark on this journey.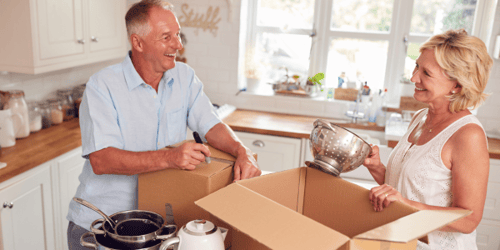 Selling up and moving on: the pros and cons
Selling the family home and moving into something smaller can make sense for a number of reasons. Along with having a more manageable space that requires less maintenance, selling up and moving to a smaller place could also unlock equity in the home that could be used for a more comfortable retirement. And there are tax advantages to making a downsizer contribution into superannuation, which could make it a financially viable option too.
However, before deciding to downsize, it's important to weigh up the pros and cons, and consider things like the cost of moving, fitting into a new neighbourhood, and making tough decisions around what can realistically fit into the new, smaller space. Take a look at some of these pros and cons of downsizing in Australia:
Pros:
Financial freedom: Selling a larger property and buying something smaller could provide a financial cushion for retirement, allowing you to reduce your mortgage debt, invest in income-generating assets, or fund travel and other leisure activities.
Reduced maintenance: Smaller homes typically require less maintenance, both in terms of time and money. A newfound freedom allows retirees to focus on their passions and interests rather than spending weekends on household chores.
Lifestyle enhancement: A smaller home can lead to a simplified lifestyle, fostering a sense of freedom and tranquillity. With fewer possessions and less space to manage, retirees often find it easier to lead an active and fulfilling life.
Location upgrade: Downsizing offers the opportunity to move to a more desirable location. Whether it's a beachside retreat, a quiet countryside, or a vibrant city centre, choosing the right location can significantly improve quality of life in retirement.
Cons:
Emotional attachment: Many people have deep sentimental ties to their home, filled with memories of raising children and celebrating milestones. Letting go of a family home can be emotionally challenging.
Space limitations: Downsizing inevitably means less space, and if you're accustomed to a larger living area, adjusting to a more compact home may require careful consideration of your lifestyle and storage needs.
Moving and other costs: While downsizing may be financially advantageous in the long run, there are immediate costs associated with the move itself. Factor in expenses such as real estate agent fees, legal fees, and the actual cost of moving to ensure you're prepared for the upfront investment.
Important considerations for downsizing
Downsizing the home in preparation for retirement is a major decision that requires thoughtful consideration of financial goals, lifestyle preferences, and emotional attachments. While it might make financial sense to downsize the family home, it's important to future-proof any decisions you make.
When choosing a smaller home, consider your future needs. Think about accessibility, proximity to amenities, and whether the new space can adapt to potential health or mobility changes. Research the communities where you're considering downsizing. Access to medical facilities, social activities, and other amenities are crucial for maintaining a vibrant and fulfilling retirement lifestyle.
Create a downsizing checklist to help you stay organized throughout the process, and prioritise tasks such as decluttering, selling or donating unwanted items, and coordinating the logistics of the move. Start early and plan well in advance to avoid feeling rushed or overwhelmed.
Get help from an expert
Downsizing can be a strategic component of a retirement financial plan, allowing you to "right-size" your living situation as your family structure changes, and ensure your home fits your current lifestyle and preferences.
Get help from experts such as a real estate agent or mortgage broker to help prepare your current home for sale and ensure your financial situation is structured to fit your changing lifestyle. Contact Mortgage Express today to connect with a mortgage broker who can provide financial advice tailored to retirement planning.
---
While all care has been taken in the preparation of this publication, no warranty is given as to the accuracy of the information and no responsibility is taken by Finservice Pty Ltd (Mortgage Express) for any errors or omissions. This publication does not constitute personalised financial advice. It may not be relevant to individual circumstances. Nothing in this publication is, or should be taken as, an offer, invitation, or recommendation to buy, sell, or retain any investment in or make any deposit with any person. You should seek professional advice before taking any action in relation to the matters dealt within this publication. A Disclosure Statement is available on request and free of charge.
Finservice Pty Ltd (Mortgage Express) is authorised as a corporate credit representative (Corporate Credit Representative Number 397386) to engage in credit activities on behalf of BLSSA Pty Ltd (Australian Credit Licence number 391237) ACN 123 600 000 | Full member of MFAA | Member of Australian Financial Complaints Authority (AFCA) | Member of Choice Aggregation Services.