Most of us don't like to think too much about death. Yet, it's the most inevitable part of life. As such, it's important we plan for end of life. We do this by writing a will, a legal document that outlines our instructions, legacies and bequests. Another way to plan ahead is to create a "Green Box" – a metaphorical storage box that contains all of the important financial documents, instructions, passwords and other vital information about your business and personal affairs.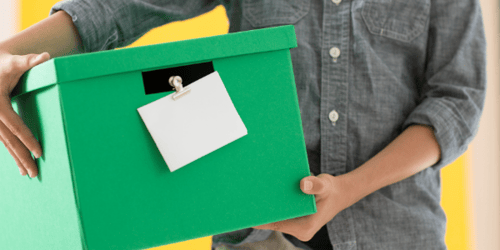 Why create a "Green Box"?
The idea around creating a green box lies in having one place – a box, storage cabinet, lockbox or even a digital file - where all important documents are kept safe, so that loved ones, family or financial advisers can access these in the event of a passing.
Although most of your last instructions will be outlined within the legal wording of your will, the intent of the green box exercise is to provide more specific and detailed instructions in your own words.
The green box could be "the why" behind your instructions, helping communicate more effectively to loved ones the reasons behind any key decisions you've made, and what other decisions you'd like made on your behalf.
What goes into a "Green Box"?
Your green box could contain personalized written instructions or video messages to your children or spouse. It's a place to keep important financial information, passwords for accounts that need to be accessed, life insurance documents, and other key personal information that only you may know about.
And if you own a business, leaving detailed instructions – such as who is in charge, how finance is to be handled, who has the authority to make important decisions, and what your goals are for the business – helps those left behind carry out your business plans.
Some things that you may want to add to your green box could include:
A letter or video message to your spouse and children

A list of the important employees in your business or an organisational chart

A list of trusted advisers – your lawyer, accountant, broker

A list of personal and business contacts that need to be notified in the event of passing

Deals that are currently in progress, your future goals for the business, and any other important information relevant to the running of your business

Copies of passport, birth certificate, bank accounts and credit cards

Copies of property titles, investment or portfolio details, life insurance and any other insurance policies

Computer passwords

Instructions for funeral or burial

Anything else important to your family or business
No matter how much we plan, nothing can prepare us for the loss of a family member. And at a time when we need to grieve, taking care of the finer details of both family and business finance can feel even harder.
Estate planning goes beyond just writing a will. Creating a green box will help provide direction for your family so they can continue your legacy. There's no better time than now to start getting your green box in order. To help you prepare, get in touch with a Mortgage Express broker to review your financial situation.
---
While all care has been taken in the preparation of this publication, no warranty is given as to the accuracy of the information and no responsibility is taken by Finservice Pty Ltd (Mortgage Express) for any errors or omissions. This publication does not constitute personalised financial advice. It may not be relevant to individual circumstances. Nothing in this publication is, or should be taken as, an offer, invitation, or recommendation to buy, sell, or retain any investment in or make any deposit with any person. You should seek professional advice before taking any action in relation to the matters dealt within this publication. A Disclosure Statement is available on request and free of charge.
Finservice Pty Ltd (Mortgage Express) is authorised as a corporate credit representative (Corporate Credit Representative Number 397386) to engage in credit activities on behalf of BLSSA Pty Ltd (Australian Credit Licence number 391237) ACN 123 600 000 | Full member of MFAA | Member of Australian Financial Complaints Authority (AFCA) | Member of Choice Aggregation Services.