Australian homeowners will be closely watching as the Reserve Bank of Australia (RBA) meets in November to decide on monetary policy. Following the RBA's recent decision to hold the cash rate at 4.1 per cent in October, some economists believe a rate hike is likely. With homeowners facing yet another possible blow to the budget – with higher mortgage repayments and ongoing cost of living pressures – refinancing to lock in interest rates and get ahead of the rise may be a viable solution.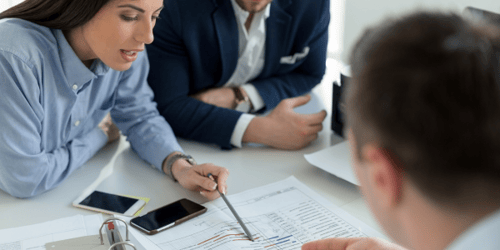 Cash rate remains unchanged
For the fourth straight month, Australia's cash rate remained unchanged at 4.1 per cent, but RBA governor, Michele Bullock, warns that further interest rate rises are possible, as the RBA works at bringing inflation down to acceptable levels.
"Some further tightening of monetary policy may be required to ensure that inflation returns to target in a reasonable timeframe, but that will continue to depend upon the data and the evolving assessment of risks," Bullock said.
Bullock said the outlook for household consumption remained uncertain "with many households experiencing a painful squeeze on their finances, while some are benefiting from rising housing prices, substantial savings buffers and higher interest income".
The national debt hotline has reported a significant increase in callers who are experiencing financial hardship, including people with steady incomes who have never used the service before. Many are accruing additional debt via credit cards, Buy Now Pay Later, or borrowing from friends and family, creating an even bigger debt problem with the potential to spiral out of control.
Refinancing solutions to ease budgetary pressure
A significant amount of fixed rate home loans are due to expire over the coming months, leaving many homeowners with insufficient equity on their property and far higher mortgage repayments.
For borrowers coming off fixed rate home loans, who are likely to see their repayments double, it's helpful to know there are financing solutions that can help ease budgetary pressures. In addition to consolidating debts and cutting back on spending, homeowners could consider refinancing.
Refinancing may be viable:
If your current interest rate is higher than an alternative interest rate available with the same lender or another lender.
If you're coming off a fixed rate term and before your fixed rate loan reverts to a variable rate much higher than the average market rate.
If you'd like to access the equity in your property to buy a car, pay for a holiday, or complete a home renovation project.
If you'd like to take advantage of cashback offers for refinancing with another lender.
Before refinancing, it's important to consider both the short and long-term impact on your financial situation. While the benefits of refinancing may include reduced repayments, cashback bonuses, getting mortgage-free faster, or cashing in your equity, there may be additional fees and costs to refinance, and extending your loan term to reduce monthly repayments means your mortgage will take longer to repay.
Refinancing in the digital world – quicker, easier, and secure
One of the most common reasons why many Australians choose not to refinance is that it can feel like a difficult process. Many will remember the long and complex forms they had to fill out, downloading bank statements from multiple lenders, and posting or faxing documents. However, it's good to know those days are well and truly over!
In 2023, here are some of the ways lenders are improving efficiencies to make refinancing easier and faster:
A simple, online loan portal to fill in all the required information for your finances.
The option to meet face to face or via video chat to save time.
Electronic signing of many documents.
Instant loan comparison across dozens of lenders.
Quick and secure retrieval of your bank statements.
Electronic submission of your loan to most lenders.
At Mortgage Express, our team of mortgage brokers can help clients structure their home loans as efficiently as possible, saving both time and money. So, if you're putting off having your loan reviewed because it's in the 'too hard' basket, please get in touch today. Or if you already have, perhaps you have a friend or family member we can help. Mortgage Express brokers offer simple, straightforward solutions to all your finance needs.
---
While all care has been taken in the preparation of this publication, no warranty is given as to the accuracy of the information and no responsibility is taken by Finservice Pty Ltd (Mortgage Express) for any errors or omissions. This publication does not constitute personalised financial advice. It may not be relevant to individual circumstances. Nothing in this publication is, or should be taken as, an offer, invitation, or recommendation to buy, sell, or retain any investment in or make any deposit with any person. You should seek professional advice before taking any action in relation to the matters dealt within this publication. A Disclosure Statement is available on request and free of charge.
Finservice Pty Ltd (Mortgage Express) is authorised as a corporate credit representative (Corporate Credit Representative Number 397386) to engage in credit activities on behalf of BLSSA Pty Ltd (Australian Credit Licence number 391237) ACN 123 600 000 | Full member of MFAA | Member of Australian Financial Complaints Authority (AFCA) | Member of Choice Aggregation Services.