When it comes to renting out an investment property, it can be tempting to go it alone as a landlord, rather than enlisting the services of a property manager. It's only when things go wrong though that the full benefit of a property manager becomes evident. If you're in the process of choosing a property manager – or still debating whether to hire a property manager – to take care of your rental property, here are 5 important qualities to look out for.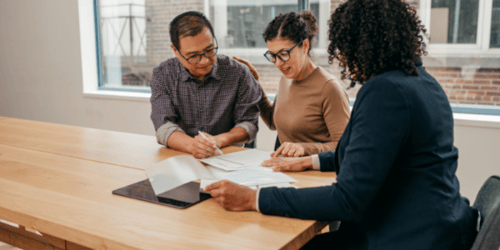 1. An expert in their field
When renting out a property, it's important to note that there are many laws and legislations that protect the rights of both tenants and landlords. Having a clear understanding of these can be tricky for a landlord on their own. Any breaches in these laws could mean harsh consequences, which is why it's essential to have someone on your side who can advise you on your rights and obligations as a landlord.
The right property manager will be knowledgeable and experienced, an expert in their field, with an understanding of current laws and legislations impacting rental and investment properties. They're someone working alongside you, providing peace of mind that you're not breaching any laws.
2. Advice on a changing market
With the rental market constantly shifting, it's vital you price your rental property at the right level. Charging too little rent means you lose out on potential revenue, while pricing too high could see you struggling to find tenants to fill your rental property.
A property manager, who has a finger on the pulse of the local market, is your best option when it comes to determining the right price point. After appraising your property and comparing it to similar rental properties in the area, the property manager will help you determine the highest achievable rent, ensuring you optimize your return on investment.
3. Clear and consistent communication
Some landlords struggle with dealing with conflict and issues that arise with tenants. Things like late payments, damage to property, or noise complaints can be uncomfortable situations to manage. Having someone on hand to mediate and manage any tenant issues is one of the biggest advantages of having a property manager. As the tenant's first port of call, the property manager is responsible for building a relationship with the tenants and being a liaison between the landlord and the tenant, ensuring all communication channels are open and fair.
4. Better tenants, better retention
Getting the most return out of your rental property relies on having good tenants who stay longer. And that process begins with tenant selection followed by relationship building. For landlords who live in another state or even another country, it can be hard to determine how good a tenant will be, and even harder to build a relationship when you're not able to meet face to face or be available 24/7 due to differences in time zones.
That's when having a good property manager really helps. Property managers are experts at assessing and selecting the right tenants, as well as fostering strong tenant relationships. They do this by communicating promptly, being available and on-hand to answer any questions when required, fixing problems as they arise, and handling any conflicting situations before they deteriorate further. All of which goes some way to building good relationships with tenants which helps improve tenant retention and reduce tenant turnover.
5. Helping maximise your return
When considering renting out a property, it helps to know what features are most appealing to tenants. Sometimes a simple renovation or basic improvement to the property can mean a higher rental yield. Things like air conditioning or ceiling fans, a modern kitchen and bathroom, on-site parking space or a garage are generally sought after by many tenants.
After appraising your rental property, a property manager should be in a position to offer suggestions on how you can maximise your return by making improvements to your rental property that will attract the right tenants or mean you're able to charge a premium rent.
An essential part of your investment
Working with an expert property manager plays an important part in ensuring you get the best return on your rental property investment. That's why it's so important to find a property manager you trust and who you feel comfortable with. That person will be a direct link between you and your tenants, and an integral part in ensuring you find good tenants and keep them!
If you are considering adding a rental property to your property portfolio, or you already own a rental property, you may choose to enlist the services of a property manager. Mortgage Express' sister company, Harcourts, has a team of experienced and knowledgeable property managers throughout Australia, ready to assist you in managing your investment property. Start by booking a free rental appraisal.
---
While all care has been taken in the preparation of this publication, no warranty is given as to the accuracy of the information and no responsibility is taken by Finservice Pty Ltd (Mortgage Express) for any errors or omissions. This publication does not constitute personalised financial advice. It may not be relevant to individual circumstances. Nothing in this publication is, or should be taken as, an offer, invitation, or recommendation to buy, sell, or retain any investment in or make any deposit with any person. You should seek professional advice before taking any action in relation to the matters dealt within this publication. A Disclosure Statement is available on request and free of charge.
Finservice Pty Ltd (Mortgage Express) is authorised as a corporate credit representative (Corporate Credit Representative Number 397386) to engage in credit activities on behalf of BLSSA Pty Ltd (Australian Credit Licence number 391237) ACN 123 600 000 | Full member of MFAA | Member of Australian Financial Complaints Authority (AFCA) | Member of Choice Aggregation Services.